MoveUP Rings in The Year of the Dragon
January 30, 2012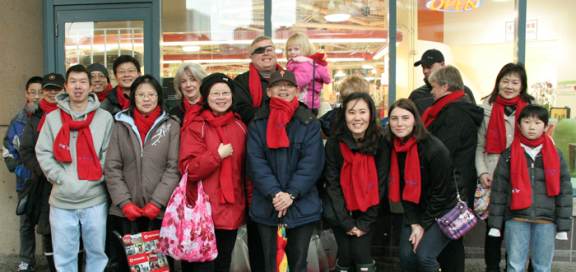 This past weekend MoveUP members participated in the Vancouver Chinatown Lunar New Year parade.
"It may have been a little damp," said President David Black, who brought his daughter Maggie to the parade, "But I think this was our best year yet."
Members and their families and guests met near the parade route and made sure to don their trademark MoveUP red scarves for the parade. Through the route members handed out red envelopes containing chocolate coins – a Chinese New Year tradition.
"It was great. It was a real experience," said Executive Board Member Sharon Thomas, who attended the parade for the first time.
After the parade, members warmed up at the Floata Seafood Restaurant with a dim sum lunch. For the second year, COPE's multicultural committee wanted to use the occasion to raise funds for a community group. Members were asked to make a donation to attend the dim sum, with all proceeds raised going to the Green Club, a non-profit Chinese-Canadian educational organization in the Metro Vancouver area dedicated to promoting cross-cultural understanding of our unique ecosystems.
"The Multicultural Committee met last week and we're planning a year of fun and exciting events," said committee Co-Chair Randy Cheung. "This parade really helps kick off our work for the year," he added.
If you are interested in joining or getting involved with the MoveUP Multicultural Committee, please email cmc@moveuptogether.ca.