MoveUP Prepares for Canadian Labour Movement's Largest Member Engagement Project
September 30, 2013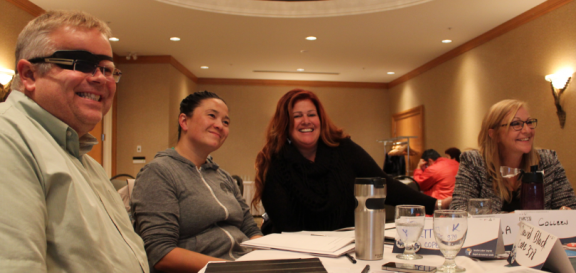 This past Saturday in Vancouver MoveUP job stewards and executive board members took part in training and strategizing for the upcoming "together FAIRNESS WORKS" campaign. together FAIRNESS WORKS is a multi-union initiative to revitalize unions from the ground up, starting with engaging with members to listen and rebuild trust and credibility. The campaign's goal is for union leadership across Canada to have three million conversations with member about what's important to them.
"This campaign will be transformative over the long term," said Canadian Labour Congress (CLC) President Ken Georgetti.
Amber Hockin, Director of the CLC Pacific Regional Office, gave a presentation in the morning.
Hockin also raised concerns about the federal and Ontario Conservatives' attempts to pass anti-union legislation. Hockin and other speakers made a strong case that legislation that allows some members to opt out of union dues while taking advantage of the union services their coworkers are paying for is unfair.
"It's not about making unions better: it's just about making them weaker," Hockin stated.
Participants were shown a video of James Carvin from United Steelworkers District 9, who talked about the attacks on unions in the southern United States. Carvin talked about how he's seen anti-union legislation result in a loss of solidarity, which leads directly to less bargaining strength and therefore lower wages and benefits for workers.
But Hockin also talked about how unions need to take responsibility for connecting with members.
"Solidarity is a living thing," she said, "It needs attention to thrive."
In the afternoons, breakout groups talked about opportunities for engaging members. Participants looked at new and more positive ways to get people involved in the union, such as through social events. Workshop facilitators stressed the importance of stewards and electeds asking open-ended questions when talking to members, and being focused on relationship-building rather than pushing an agenda. Several COPE stewards noted members know the union is there but sometimes feel isolated.
"If you want to engage the members, just talk to them," stated one Hydro steward.
More together FAIRNESS WORKS leaders' seminars have been scheduled for Cranbrook and Kelowna and later this fall the Canadian Labour Congress will be holding "train the trainer" sessions to help union members and job stewards hone their member outreach skills.