MoveUP Office Kicks Off United Way Campaign
August 30, 2012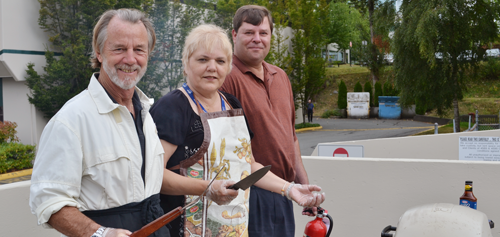 On Wednesday MoveUP staff and electeds kicked off their annual United Way fundraising campaign with a barbeque. The United Way campaign committee of Val, Bonnie, and Joanne, as well as volunteer barbequers Carrol and Scott made sure there was lots of delicious food for everyone.
Vice-President Gwenne Farrell, who sits on the Board of the United Way of the Lower Mainland, wasn't able to be present for the kick-off but Vice-President Heather Lee read a speech on her behalf, which outlined the main priorities for United Way funding:
· Poverty: One in five children in BC under the age of 6 lives in poverty. Funding from the United Way helps break the cycle by ensuring children get the best start in life through early learning, skilled parenting and childcare services.
· Bullying: Every month more than one third of children in grades 4 to 7 are bullied or bully others. The seriousness of bullying and the urgent need for programs to fight it have become even more apparent to the public in recent years. The United Way helps children make the right choices by funding safe spaces and supportive spaces where children feel they belong and can find great role models to help grow their confidence and end destructive behaviours.
· Social Isolation: Social isolation affects at least 10% of seniors living in the Lower Mainland. The United Way supports seniors aging with dignity through funding services that reach out to seniors and help them engage with their community while continuing to live in their own homes, surrounded by friends, family and neighbours.
"Money that you donate to the United Way helps make a difference in all of these areas and benefits the communities where we live," the statement continued.
For several years the MoveUP staff have set and met ambitious United Way fundraising goals and the campaign organizers are confident this year will be no exception. The barbeque was only the first of several unique and fun fundraising events happening about every two weeks leading up to the direct donation part of the campaign later in the fall.