MoveUP members on strike at BC Nurses' Union
July 25, 2016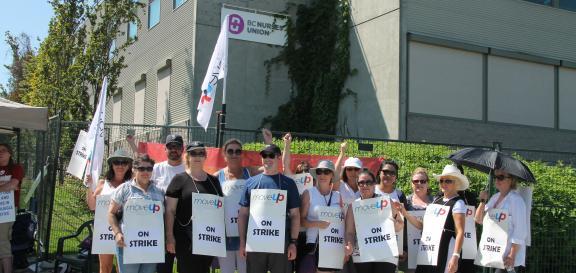 BC Nurses' Union leaders are still
demanding

contract

rollbacks

from their employees.

On July 22, they locked out the union's employeesrepresented by MoveUP, forced strikes and withheld information about these activities from nurses.

BCNU leaders would never stand for health employers treating the nurses they represent this way – so what makes it an acceptable practice in their own house?

Preaching one thing for nurses and doing the opposite to BCNU staff is not an acceptable showcase of union values. It isn't walking the talk.

MoveUP wants a fairly negotiated contract. But BCNU leaders want to rollback existing benefits on access to medical appointments and family obligation leave. This dispute isn't about money.
Tell BCNU leaders to
walk the talk

by negotiating a fair contract with MoveUP here.