MoveUP Members at TWPP On Strike
February 17, 2012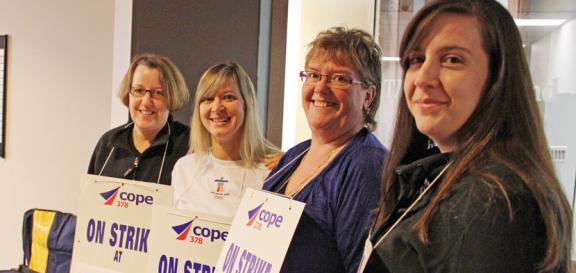 Yesterday the MoveUP Members at the Telecommunication Workers Pension Plan began strike action.
The TWPP Bargaining Committee has been without a contract for 14 months, but talks have reached an impasse. TWPP workers have fought against concessions to their vacation and attempts from the employer to lengthen their work week. The key issue to be resolved is wages. MoveUP members at TWPP work hard for their employer and clients and need to be able to continue to support their families. Fundamentally, it's about fairness.
This employer encouraged our TWPP members to accept a stand-alone agreement rather than bargain as part of the Master Trade Agreement. This is another reminder of how standing alone does not guarantee that employees will be safe from these kinds of attacks on our work weeks and other past negotiated collective agreement provisions.
The picket line is located outside Suite 303, 4603 Kingsway, Burnaby, BC (Northeast corner of Kingsway and McKay near Metrotown). Members will be picketing 7 AM to 6 PM Monday to Friday. If you are in the neighbourhood, please don't hesitate to drop by and show your support.
In unity,
Heather Lee
Vice President , Combined Units