MoveUP Meets with Delegation from the Chongqing Federation of Trade Unions
November 5, 2010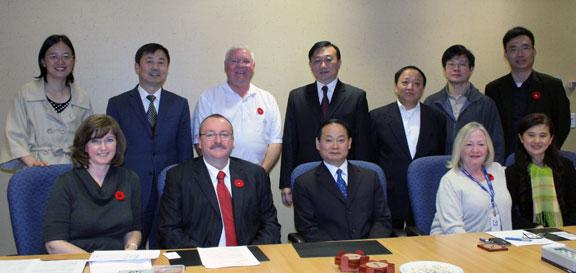 On November 4th MoveUP met with a delegation from the Chongqing Federation of Trade Unions (CFTU). The delegation is visiting unions in Canada and the US to learn more about North American industrial relations and trade union structures.
MoveUP's representatives included President Andy Ross and Secretary Treasurer Lori Mayhew and members of MoveUP's Multicultural Committee, Jan Zhang and Jenson Luk. Meeting with the CFTU is part of MoveUP's ongoing efforts to learn more about China, how unions are perceived in China and what our newer immigrant members expect from trade unions.
Approximately 12% of MoveUP's membership is of Chinese decent, and British Columbia
enjoys a long tradition of Chinese immigration. Over the last four years MoveUP has been making efforts to reach out to Chinese communities both inside and out of our membership. We hope to increase the diversity of MoveUP's activists and elected officials, to improve the perception of the labour movement in BC's Chinese communities, and to help new immigrants better understand unions and their functions.
Chongqing is an enormous municipality with a population is 32.8 million – nearly equal to the
entire population of Canada. Chongqing is one of China's directly controlled municipalities; others include Beijing, Shanghai and Tianjin. The Chongqing Federation of Trade Unions represents 4.5 million people.
Both parties acknowledged that unions in China and Canada differ greatly. Vice Chairman of the CFTU, Ran Chonglun, said they view themselves as a bridge between the companies and the workers, whereas the primary responsibility and accountability of Canadian unions is to their members. The Chinese delegation was very interested in the western version of negotiations and had many questions for MoveUP about bargaining.
MoveUP was pleased to provide insights into the rights and responsibilities of Canadian unions and the regulatory framework that supports us. In turn the delegation gave us a brief overview of Chinese labour relations. The meeting ended with both parties looking forward to engaging more interchanges between the union communities in China and in Canada.
To read the Ming Pao story covering the event, click here (article in traditional Chinese).
Group picture at top of story: Top row L-R: Jan Zhang MoveUP Multicultural Committee co-chair; Li Hong, CFTU Minister of Organization; Robert Derby, MoveUP Vice President ; Zhou Shiyun, CFTU Director of International Communications; Hang Chunyan, Nan'an District Federation of Trade Unions Vice President; Jenson Luk, MoveUP Multicultural Committee; Cliff Cheng, MoveUP consultant.

Bottom row, L-R: Lori Mayhew MoveUP Secretary-Treasurer, Andy Ross, MoveUP President; Ran Chonglun, CFTU Vice President, Heather Lee, MoveUP Transistion Officer; Zhu Xiaoyan, Vice President, Shapingba District Federation of Trade Unions.