MoveUP Endorses Amber Hockin for BC Federation of Labour President
October 14, 2014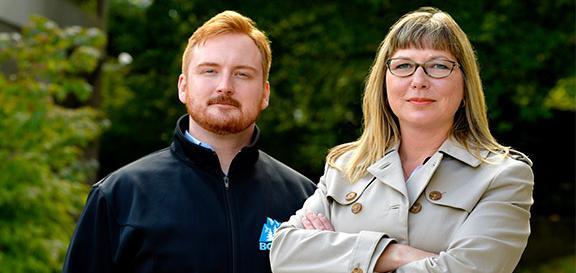 MoveUP Endorses Amber Hockin for BC Federation of Labour President
BURNABY – Today the Canadian Office and Professional Employees Union, Local 378 (MoveUP) announced its members will be supporting Amber Hockin in her campaign to be elected the next president of the BC Federation of Labour. Hockin is a long-time CUPE activist and currently senior staff at the Canadian Labour Congress.
"The BC Federation of Labour President is an incredibly important role. Amber Hockin is the type of person who can bring people together and build consensus. She will do a fantastic job leading our movement and standing up for all B.C. workers," said MoveUP President David Black.
MoveUP is also supporting BCGEU staff member Aaron Ekman, who is running for Secretary-Treasurer of the BC Fed, alongside Hockin. Ekman was the founding president of the North Central Labour Council and has a strong background engaging young workers.
Hockin and Ekman have put forward seven commitments, including building a progressive labour movement for all working people, focusing on supporting jobs in rural and resource communities through economic transition; ensuring BC Fed initiatives reflect our diverse workforce; and renewed emphasis on organizing, research, political action, and policy development
"Hockin and Ekman understand issues that MoveUP members face in both the private and public sectors. Beyond that, they have put forward a broader vision that MoveUP shares: a more unified, effective and progressive BC Federation of Labour," said Black.
-30-