MoveUP Dragon Boat Team Makes Waves in First Races
June 18, 2012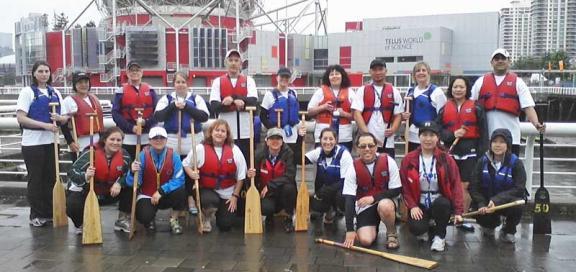 MoveUP's first dragon boat team left the Dragon Boat Festival this past weekend damp in everything but spirit. Despite heavy rain on Saturday, the MoveUP "Making Waves" team – who had practiced together only four times – went up against more seasoned competitors in two races (see pictures from the Saturday on the MoveUP Facebook page here). Coming into the competition, our team had always clocked in at more than three minutes for the race route – a time that was not considered competitive. In the first and second races our team got that time down to just under three minutes, but they knew they'd have to work even harder to challenge teams that were more experienced.
On Sunday, buoyed by better weather and the presence of the team's regular practice coach, "Making Waves" placed fifth out of six in their semi-final, and cut almost 20 seconds off their time from the previous day (2:41.800). The time was good enough to let them compete for a medal in the Recreational E Championship. While they didn't get the medal, the team placed fifth out of eight and made another substanatial time improvement (2:29.470).
"It was a really fun experience," said MoveUP Executive Board and dragon boat team member Melanie Greenlaw, mentioning that it had been a great opportunity to try something new, get active, and meet members from a variety of different bargaining units.
Local United Steelworkers members took the opportunity of the weekend to leaflet the festival to raise awareness of Rio Tinto's attacks on workers in Alma, Quebec. Rio Tinto is the named sponsor of the Vancouver dragon boat festival. For more information on the labour movement's campaign against Rio Tinto, visit www.justiceforriotintoworkers.ca.