MoveUP Congratulates Hastings Racecourse Members on 125th Year of Horse Racing in B.C.
October 24, 2014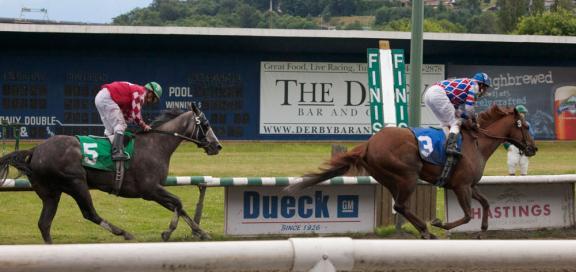 The Canadian Office and Professional Employees Union, Local 378, which represents almost 200 workers at Hastings Racecourse, is offering their heartfelt congratulations to their members as they near the end of the 125th horse racing season in B.C.
The first thoroughbred race in Vancouver was held in 1889 on Howe Street. A horse named Mayflower took home the first prize of $250. But not long after, thoroughbred racing moved to Hastings Racecourse. Hastings is the only racecourse remaining in the Lower Mainland and has been the only site for racing since 1961. This year, the total purses will total more than $2.5 million.
"If you go out to Hastings you can see the enthusiasm for horse racing continuing going on 125 years, and that's really exciting. Hastings draws an estimated 250,000 people every year. We want to make sure they see how much our members have contributed to keeping horse racing strong here," said MoveUP President David Black.
UNITE HERE! Local 40 also represents members at Hastings Racecourse; specifically, bartending, dining and culinary staff. On this occasion, UNITE HERE! Local 40's president, Robert Demand, noted:
"For 125 years people have been going to the races in Vancouver and a huge part of the experience, whether your horse wins or loses, is eating & drinking. Knowing "your" Bartender or Server, knowing that they're there to celebrate with or console you until the next race is part of magic of a day at the races. We're incredibly proud of all of the hard working professionals that work at Hastings Racecourse, especially the long-time bartending, dining & culinary staff."
According to the provincial government, B.C.'s horse racing industry has an estimated economic impact of $350 million and directly employs 3,600 people. More than 7,400 individuals derive an income from racing in full-time, part-time, and casual employment. In addition, the industry is the only form of gaming that generates business within the agricultural sector, making it economically important throughout the province.
"Horse racing continues to play an important economic and social role in our community and our province. But Hastings would not be here today were it not for the hard work of the union members working up in the ticket booths, out on the back stretch, on the casino floor, in security, and many other places behind the scenes," said MoveUP President David Black..
-30-
For more information, contact Jarrah Hodge, Communications Officer at MoveUP, jhodge@moveuptogether.ca