MoveUP at World Pride
July 22, 2014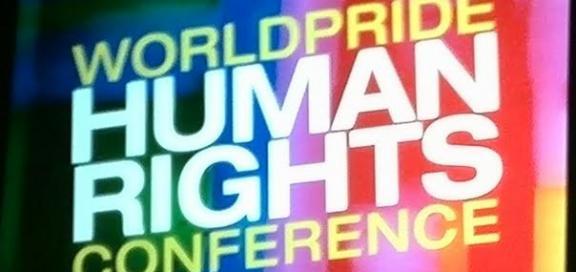 On behalf of the QUILTBAG sub-committee of the MoveUP Human Rights Committee, I attended the World Pride Human Rights Conference in Toronto from June 24 to 29, 2014. I attended several events on behalf of MoveUP, including the AIDS candlelight vigil, plenary sessions, and trans, lesbian and gay pride parades.
The AIDS vigil, "Honour, Remember, Celebrate" took place at Cawthra Square Park, where 16 names were added to the AIDS memorial wall for those who passed away in 2013. What struck me was the lack of young people in attendance. The apparent generation gap in the gay community saddened me as someone who has buried 38 friends from AIDS. The drug regimens we have now allow people with HIV to live a long life, but they don't work the same for everyone and HIV/AIDS is still a significant global issue.
A highlight for me was a plenary with African speakers: Justice Mbaru, Dr Mugisha and Richard Lusimbo.
The speakers talked about the influence of anti-gay American evangelical missionaries in Africa. Because of their efforts, Uganda has passed repressive laws that make homosexuality punishable by life imprisonment. Other countries such as Malawi, Kenya and Nigeria are using the same Ugandan law as a template to pass bills in their respective countries. These American evangelicals have taught the African governments if they want to stay in power they must scapegoat a minority group, so during elections politicians ramp up rhetoric against gay people.
The African speakers said we are a huge family, and some of us live where human rights are not respected for gays. They spoke of partnering individuals from Canada with people in Africa and encouraged Canadians to get to know someone and their story and write to Canadian MPs to advocate for their safety.
In another plenary, Edith Windsor talked about taking the US government to court over the Defense of Marriage Act (DOMA) and winning. She is now known as the "Rosa Parks of gay rights". In their ruling, the US Supreme Court declared that same-sex couples married in states where it is legal must receive the same federal health, tax, Social Security and other benefits that heterosexual couples receive.
The conversation between Edith Windsor and Justice Harvey Brownstone, an openly-gay Canadian judge who officiated Windsor's wedding to her long-time partner Thea Spyer, was at times funny and quite elucidating. You knew by their patter that they had known each other a long time and hence the conversation was free-flowing and full of insights as to how and why Edith took on the government. She truly is a heroine in the gay community, and I am grateful to MoveUP that I got to hear her.
Another speaker, Tamara Adrian, is a law professor in the most prestigious universities in Venezuela. Though she was nominated to become a Judge for the Venezuelan Supreme Court in 2010, she has not been appointed because she was born a man and the same court she is nominated to does not recognize she is now a woman. Until Venezuela's laws change to recognize trans people, she cannot be appointed. Unfortunately, Venezuela has a poor human rights record, especially on LGBT rights. If she were to be appointed it would be a significant achievement. Adrian was introduced by Jian Ghomeshi as the "Rosa Parks of the trans community."
The main Pride parade was a chaotic zoo that started at 1 p.m. and lasted over five hours, with festivities continuing well after midnight. By the time I had to leave for the airport, the parade was still not over.
Many of the events at WORLDPRIDE were sponsored by unions and their affiliates. I just want to say I am proud to belong to a union like MoveUP. Thank you to my union for this opportunity. I hope that others will be able to experience the next WORLDPRIDE, in 2017 in Spain as well.
by Petro Koromvokis, Chair of the MoveUP QUILTBAG Sub-Committee of the Human Rights Committee