MoveUP at the BC Hydro Safety Rodeo
September 25, 2012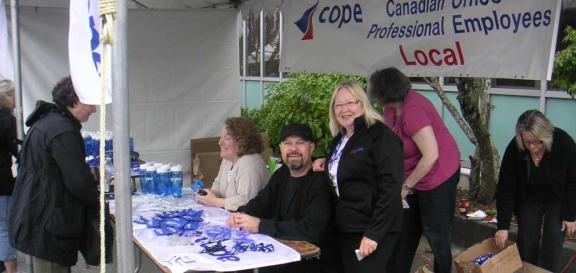 Saturday, September 21 was busy day for MoveUP; not only did staff and elected members attend the Green Jobs Conference, the union held Job Steward Training and had a robust presence at the BC Hydro Safety Rodeo.
This year more than 3,000 attendees were given an opportunity to see the unique work performed by BC Hydro employees. There was lots for the kids (and adults) to see and do at this family event, including the Power Line Technician competitions and safety demonstrations.
MoveUP once again proudly sponsored the First Aid competition and Vice President Gwenne Farrell presented the award to the winning team.
Surrey-Whalley MLA Bruce Ralston always makes a special point of attening the rodeo, and this year was no different. Ralston was joined by his Surrey-Fleetwood colleague Jagrup Brar who was attending the Safety Rodeo for the second time.
MoveUP President David Black proved his sense of humor by taking a turn as the dunk tank target and Vice Presidents Gwenne Farrell, Heather Lee and Jeff Gillies staffed the union's booth.
A great day was had by all in attendance.