MoveUP and IBEW 258 team up to give the gift of Warriors lacrosse to Canuck Place families
November 28, 2019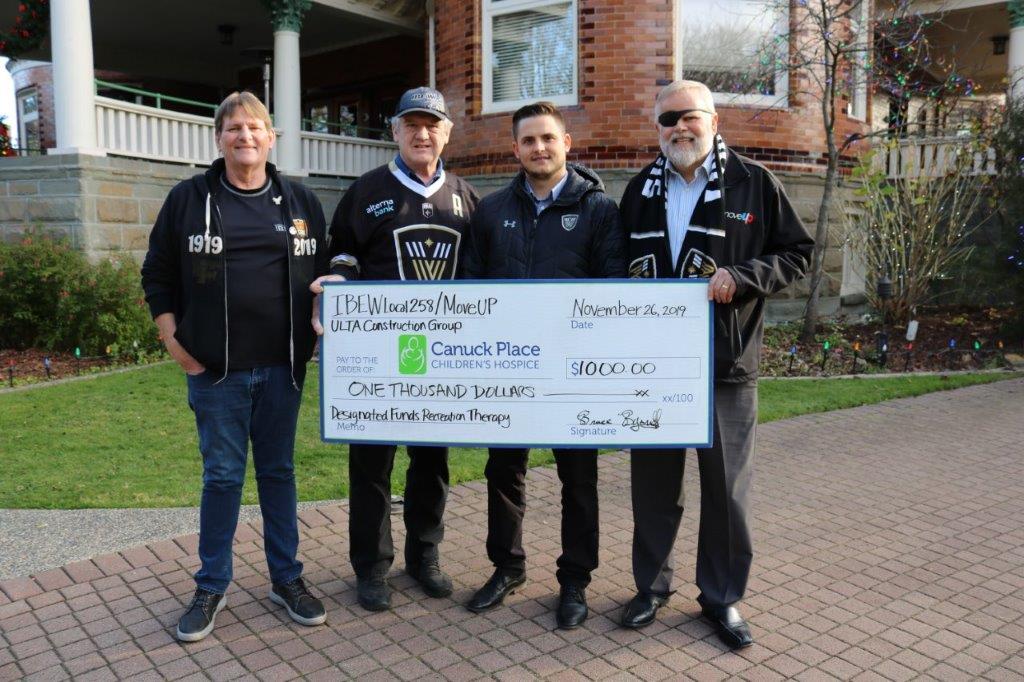 When Bruce Byrnell lost his grandson, Aiden, at the age of nine following a courageous battle with illness, he wanted to find a way to honour his memory while giving back to others.
For Bruce, doing so meant combining more than just one love and passion. When Aiden passed away, he had been staying at Canuck Place Children's Hospice. Being a big lacrosse fan, Bruce decided doing something for the families he got to see at Canuck Place would be a fitting way to honour his grandson's memory, and give him the opportunity to help promote the sport he loves at the same time.
To do so, he turned to his fellow union members and friends who work with him at BC Hydro. An IBEW Local 258 member himself, Bruce also reached out to MoveUP for support through his friendship with MoveUP President David Black, who he happens to play lacrosse with.
"Both IBEW 258 and MoveUP represent a vast majority of the employees at BC Hydro so I approached both of them," said Bruce. "They were just so generous to get on board and say, 'yes, we want to support Canuck Place' and allow the families to be able to have that night away from here."
After hearing Bruce's story, David brought the matter to MoveUP's executive board who were more than happy to play a small part in supporting families who are going through difficult times and to bring some joy through Warriors lacrosse for children living with terminal illnesses.
"I think this is hat's off to Bruce and his family who went through a very, very difficult time and are trying to make those circumstances easier for families that come after," said MoveUP President David Black. "MoveUP is well behind that. We're glad to partner with IBEW 258 and with the Vancouver Warriors to give families a bit of a time out from very, very difficult times."
Through Bruce's efforts, and the generosity of MoveUP and IBEW Local 258, $1000 was donated to Canuck Place to purchase tickets to Vancouver Warriors games to donate to families at Canuck Place to allow them to have an evening out and away from the stress they are experiencing.
The Warriors also stepped up by agreeing to match the contribution. That way, if 10 tickets are needed for a family to attend a game, only five need to be purchased and the other five will be generously donated by the Warriors.
This is just another example that goes to show that solidarity between union members goes beyond just the workplace.
If you are interested in learning more about the work that Canuck Place does, visit canuckplace.org.