MoveUP AMS Members Join One-Day Strike
October 4, 2012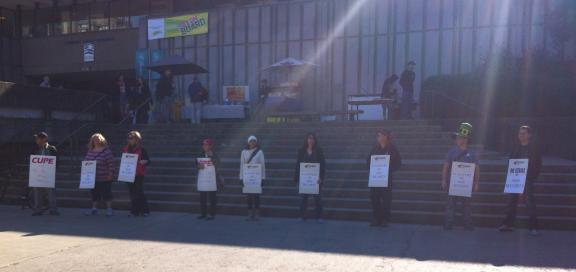 Approximately 30 MoveUP members at the UBC Alma Mater Society are taking a day of strike action today in support of a fair deal for AMS Security workers and in solidarity with CUPE 116. Their action started at 8 AM around the Student Union Building.
"We're really close to a deal for our security workers," said MoveUP Senior Union Rep Brad Bastien, "And we're hoping being out on campus talking to students and campus members about our issues that this action helps give us that final push."
Most AMS Security workers only make $11.50 per hour, significantly less than other security workers on campus.
As of noon, CUPE 116 members at UBC will also be on strike and the AMS workers are joining them for an afternoon rally at the Goddess of Democracy plaza.
"They're dealing with similar issues around their employer not being willing to degotiate a fair and reasonable collective agreement," said Bastien, who is also MoveUP's Chief Negotiator in bargaining with the AMS.
"They've also strongly supported our security workers. This is solidarity: we go out there and show our support for their negotiations with the university so they can get a fair deal," Bastien added.