Monica is Voting Yes for Transit for More HandyDART Service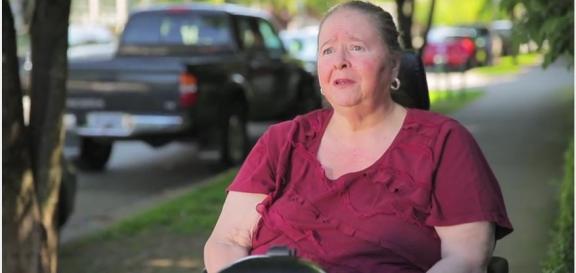 METRO VANCOUVER – In a video released just before the deadline to request a transit referendum ballots from Elections BC, HandyDART user Monica McGovern shares why she's voting Yes for transit.
"If we don't have a good transit system, especially people on disability are suffering," McGovern explains. "They need transit to go out to appointments to visit friends, to do their shopping. So it's just essential to people to keep their spirits up. They'd just be shut in, if they can't get out. And it's not good for the spirit to be shut in."
In the video McGovern talks about the impact HandyDART service has on her life. "It's a big outing for me to go out to a medical appointment. Some rides are difficult. The times are very limited. You'll tell them when you need to be somewhere and they'll tell you when they can pick you up. That's a problem because if your appointment goes over the estimated pickup time, they won't pick you up."
"I'm raising a couple of grandchildren, I want to take them to the pool or something— the park, then there's no impulsive rides."
If the Mayors' Plan is approved, HandyDART riders will receive 30 per cent more service. People with disabilities will get more door-to-door HandyDART service for a safe ride to doctor appointments, to run errands, and to get around the community. The Mayors' Plan will also deliver 100 new custom transit vehicles to serve residents across the region.
The video is the last in a series co-produced by the Canadian Office and Professional Employees Local 378 (MoveUP), the B.C. division of the Canadian Union of Public Employees (CUPE BC) and the Amalgamated Transit Union, Local 134 (ATU 134).
"Our members drive the HandyDART shuttles and they hear stories like Monica's every day," said ATU President Geoff Devlin. "It's heartbreaking not to be able to provide rides to people who need them. Voting Yes will help a lot of HandyDART dependant riders."
"One million more people are moving to our region in the next 30 years" said CUPE BC Secretary-Treasurer Paul Faoro. "Some of those people will need accessible transit services like HandyDART shuttles."
"In addition to reducing traffic congestion, making commutes shorter and building the roads we'll need in the future, a Yes vote helps those who need it most," said MoveUP Secretary-Treasurer Lori Mayhew.
Watch the video here: https://youtu.be/SMUKExnfTj4
-30-
Media Contacts:
Sage Aaron, MoveUP
saaron@moveuptogether.ca | 604-317-6153
@COPE378
Clay Suddaby, CUPE BC
csuddaby@cupe.ca | 604-313-1138
@CupeBCNews