Merry Christmas from MoveUP
December 19, 2014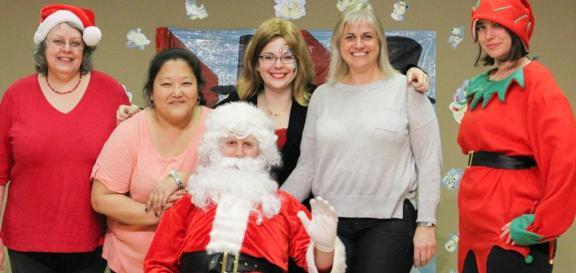 On behalf of all the MoveUP elected officers and staff, I wish our members and their families a very Merry Christmas, or Happy Holidays for those observing other celebrations this season.
I also want to thank MoveUP's Social Event and Planning Committee for coordinating several very successful Christmas events over the past month.
Our "Christmas Meet and Greet" in Victoria brought members from different bargaining units together to share in the spirit of the season. Our annual "Brunch with Santa" events in Burnaby and Victoria gave many members and their families a chance to get out and enjoy food, face painting and other family-friendly activities. Members in Port Hardy went skating with Santa on December 14.
And as usual, many MoveUP members across B.C. took time in December to show the spirit of the season by giving back to our communities and helping the most vulnerable.
Having wrapped up workplace United Way campaigns in the fall, members found more ways to help, through Christmas hampers, and food and clothing drives. The Social and Event Planning Committee would like to thank everyone who donated non-perishable food for the food bank and a toy to be donated to a local children's charity – admission to the "Brunch with Santa" events. It was very much appreciated and will go a long way towards making others' holidays a bit brighter.
May you and your loved ones have a joyous holiday season.
Merry Christmas and Happy New Year!
David Black
President