MEDIA RELEASE: Ahead of Labour Day, BCNU leaders fail to 'walk the talk' on their union values
September 1, 2016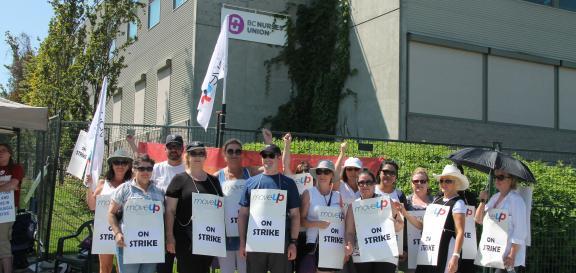 BURNABY – The BC Nurses' Union leadership is failing to live their union values as their staff prepare to remain on the picket lines through Labour Day.
"The BCNU leadership isn't walking the talk when it comes to living their supposed union values," says David Black, President of the union MoveUP, which represents the staff members on strike at the BCNU. "Labour Day really highlights the fact that the BCNU is continuing to use anti-union tactics that they regularly condemn on their own employees."
BCNU staff have been on strike since July 22, when the BCNU leadership locked them out and then asked them to return to work an hour later under an employer-imposed contract that gutted benefits and other terms of employment. The staff had no other choice but to strike.
"If the locked-out staff were nurses, you can almost hear the protesting from BC Nurses Union leaders," said Black. "Press releases would fly, picket lines would go up and BCNU President Gayle Duteil would bellow with outrage at this despicable act by employers.
Black noted that it was the BCNU leadership's heavy-handed, concessionary negotiation tactics that started the dispute.
"They are trying to roll back medical and family obligation leave for their office staff," said Black. "That's pretty rich for an organization that has a "no concessions" policy when it comes to bargaining for their own members."
Black said that MoveUP continues to call for bargaining to resume with concessions taken off the table.
"We know the nurses of BC have strong values, said Black. "They stand for respect and believe in fairly negotiated contracts."
"This Labour Day we ask nurses to think about those values and tell the leadership of your union to walk the talk on them."
MoveUP represents the 59 administrative and technical employees that work for nurses at the BCNU.
-30-