Mayor's Council transit plan good news for transit users, drivers, economy and environment
June 12, 2014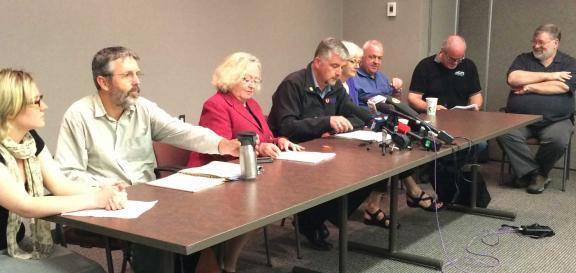 TransLink and Coast Mountain Bus Company unions, BC Federation of Labour, transit, student and community group representatives very pleased with Mayors' Council transit and transportation plan – call on province to get on board
VANCOUVER – Unions representing workers at TransLink and Coast Mountain Bus Company are very pleased with the proposed transit and transportation plan released today by the TransLink Mayors' Council, saying it is good news for transit users, drivers, the economy and the environment.
And the unions are joined by transit and community organizations who are calling on the provincial government to get on board with the plan in order to win a public referendum and implement the significant improvements to a transit and transportation system that is inadequate to the needs of the growing region.
The Mayors' Council plan proposes significant increases in bus service throughout Metro Vancouver, new rapid transit and rapid bus developments in Surrey and other municipalities, an extension of the SkyTrain line down the Broadway corridor to Arbutus Street, more SeaBus service and improvements to the region's roads and bridges.
"Our riders dearly know we urgently need more buses just to deal with existing demand, let alone growth in Metro Vancouver," said Unifor Local 111 Vice-President Gavin Davies, representing 3,600 transit operators. "This plan will make life better for both commuters and drivers because it will provide 25 per cent more buses, encouraging people to leave the car at home and take transit, which Is better for our environment."
Eric Doherty of Get On Board BC, a coalition of student, community and transit groups, said the new plan addresses chronic transit shortages in Metro Vancouver.
"Students, commuters and those who depend on public transit have been waiting for improvements for years -now we can see progress -but only if this positive plan is actually implemented," Doherty said. "We need everyone to literally Get On Board and pass this plan through the referendum process determined by the BC government."
Heather Lee, vice-president of the Canadian Office and Professional Employees Union, local 378 (MoveUP), representing operational, scheduling and administrative workers, and transit security, says the Mayors' Council plan will life better for hundreds of thousands of dally transit users.
"Employees will spend less time waiting for and then traveling on overcrowded buses, SeaBus and SkyTrain and more time with family, friends or doing whatever they want -it will improve the quality of life in Metro Vancouver," said Lee.
And Metro Vancouver Alliance representative Maria Robinson, Co-Chair of the Transit Research Action Team of Metro Vancouver Alliance said "better transit is critical for people on lower incomes."
"The Metro Vancouver Alliance brings together community groups, labour, faith and educational institutions to work on pressing social justice issues and one of our four areas where serious change is needed is to improve public transit because so many people with limited means depend on it," said Robinson.
A better transit system is also critical to people with disabilities, says Bob Chitrenky, president of ATU Local 1724, representing HandyDART drivers.
"The Mayors' Council plan to provide more access to handyDART shuttle service for people with disabilities is enormously important to our riders," Chitrenky said. "We see every day that the available service is not near enough to meet the needs -this will help reduce wait times and increase access."
BC Federation of Labour Secretary-Treasurer Irene Lanzinger said workers across Metro Vancouver urgently need better transit and transportation to get to and from their jobs, especially those who work at night.
"The regional economy of Metro Vancouver depends on hundreds of thousands of workers getting to work and back efficiently -these improvements will not only make that more possible but it will also help our environment by giving more workers the option to not drive to their job," Lanzinger said.
And Rob Woods, Canadian Union of Public Employees Local 4500 president, representing transit supervisors, transit communications supervisors and maintenance supervisors, said the new transit plan will put two-thirds of the Metro Vancouver population within walking distance of frequent transit and greatly improve service south of the Fraser River.
"More access to frequent transit service, including the rapid transit network, will mean real options for many in Surrey and other communities who have been forced to rely on vehicles or spend far too much time waiting for buses or SkyTrain," Woods said. "This Is a huge step forward."
Joe Elworthy, Unifor 2200 president representing 1,100 mechanics, SeaBus, maintenance and other workers, said better SeaBus service will be good news for the North Shore.
"SeaBus is a critical part of commuting for North Shore residents – more service at peak hours means quicker travel and more options to avoid the crowded bridges," Elworthy says.
Geoff Devlin, president of the Amalgamated Transit Union Local 134, representing West Vancouver Blue Bus drivers and mechanics, said other service improvements in the plan will also benefit West Vancouver residents.
"More frequent bus service In West Vancouver and indeed all parts of Metro Vancouver will make public transit a real option for far more people and help reduce air pollution by cutting the number of cars on the road -that's progress," Devlin said.
CUPE 7000 President Bill Magri, whose local represents SkyTrain workers, agrees. "I am very pleased to see this secure model of funding that will ensure future growth of publicly funded, owned and operated transit in the region," said Margi. "The Evergreen Line will be coming on stream in 2016 with service to Coquitlam and Port Moody. Rapid Transit needs to be expanded south of the Fraser and to UBC. This plan will allow for that much needed expansion."
– 30 –
Media contact for MoveUP:
Sage Aaron, Communications Director
604-317-6153
saaron@moveuptogether.ca
The Joint Union Committee represents 6870 workers in total across the TransLink enterprise system, in all aspects of TransLink's operations.
The JUC's members are:
ATU local 134, representing about 125 bus drivers and mechanics workers at Coast Mountain Bus' West Vancouver Blue Bus system.
ATU local 1724, representing 560 drivers, office workers, mechanics and road supervisors who work forHandyDart.
BCGEU, representing 156 workers on the Canada Line.
MoveUP, representing 643 members in total at TransLink and Coast Mountain Bus Company. MoveUP's members work in IT, dispatch, office support and administration, security, customer service, operator training and more.
CUPE 7000 represents 581 SkyTrain workers in operations, vehicle maintenance, wayside maintenance, and administration at the BC Rapid Transit Company.
CUPE 4500 represents 205 unionized supervisors at the Coast Mountain Bus Company including maintenance supervisors, control room dispatchers and transit supervisors.
Unifor 111, representing over 3,500 bus drivers at theCoast Mountain Bus Company.
Unifor 2200, representing 1,100 mechanics, SeaBus and maintenance workers at the Coast Mountain Bus Company.