Lori Watt: Winner of the 2011 Ardell Brophy Award
March 25, 2011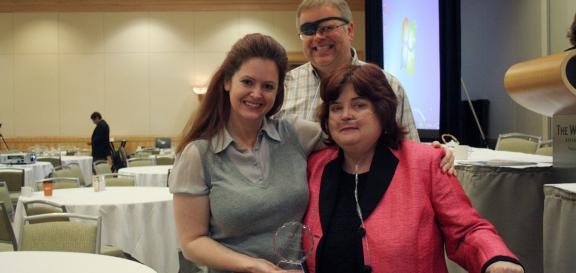 The first annual Ardell Brophy Award was presented to MoveUP member Lori Watt at the union's job steward seminar this morning.
Watt, a MoveUP member at CUPE BC, is a committed activist and advocate in her community. A New Westminster School Trustee, accomplished actress, director, and producer, Watt's experience spans the arts, labour, and education communities.
The Ardell Brophy Award was initiated this year to recognize members of MoveUP who have shown exemplary service to their union and their community.
Brophy, a long time MoveUP union rep, member, activist, and advocate is an incredible mentor and leader; a community activist, labour advocate, women's rights champion, and an accomplished stand-up comedian.
Ardell's record and resume is nothing short of outstanding and inspirational. The founder of Laff Riot Girls, which was established to provide opportunities to women comedians, Ardell has also been an active volunteer and fundraiser for the United Way, the NDP, and is a vice president of Local 2009 of the United Steelworkers.
Ardell also recently won a YWCA Women of Distinction Award for her community service and long record of achievements.
Ardell is a role model that has always led by example, donating her time as a comic to raise hundreds of thousands of dollars for dozens of organizations, including Charlford House, St. James Women and Children's Shelter, various Greater Vancouver Foodbanks, The Cinderella Project, Breast Cancer, Big Sisters, and the BC Children's Hospital Foundation. Virtually every female comic in BC has been influenced and encouraged by Ardell.
In the past two years Ardell was diagnosed with a pulmonary fibrosis which has meant that she is on full-time oxygen and has been unable to continue her work as a Union Representative. Ardell has still managed to raise thousands of dollars for charity, and support young up and coming comics with encouragement, and managed to perform with her oxygen tank!
MoveUP also recently created the Ardell Brophy Award in her honour.
Congratulations to Lori Watt, and our salute to Ardell Brophy.