Long-Time COPE Activist Tom Duncan Retires
April 20, 2012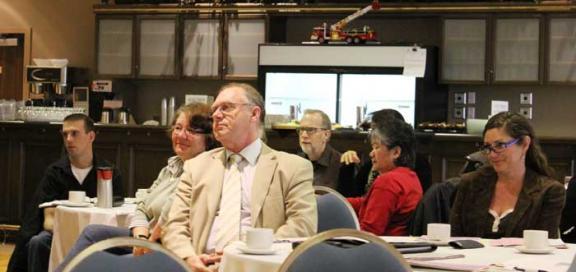 Tom Duncan, a familiar face around MoveUP Executive Council meetings and other union events, recently retired from his job as an ICBC estimator. At MoveUP's April Council meeting, Vice-President Jeff Gillies congratulated Tom and reflected on his contributions to COPE:
"Tom founded MoveUP's first Political Action Committee with Andy Ross in the 90s," Gillies noted, "He sat on the OH&S Committee and was a member of the ICBC Bargaining Committee in 1994-1995. He's been a MoveUP Executive Councillor since time immemorial."
The Council also recognized Tom's extraordinary community work. In addition to serving on the Duncan City Councillor (he topped the polls in their most recent municipal election), Tom sits on the board of the Cowichan United Way and on the United Way's Human Relations Committee. He also serves on the Cowichan Folk Guild Executive Board and has been a delegate to the Nanaimo Duncan and District Labour Council.
"[Tom's] an activist through and through. Every provincial and federal election he can be found helping out on the local NDP campaign," Gillies stated, also thanking Tom for always being a reliable worker on any union campaign, whether or not it had to do with ICBC.
MoveUP thanks Tom Duncan for the immense contribution he's made to the union and wishes him well in his retirement.