Life On The Picket Line Isn't Fun, But It Can Be Sweet
August 10, 2016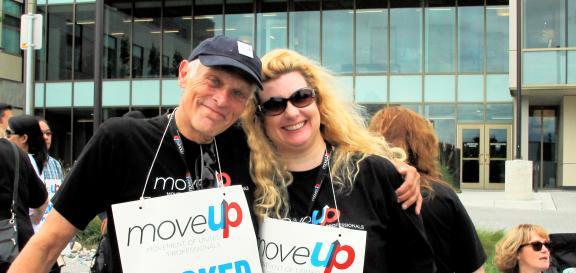 Life on the picket line isn't fun, but it can be sweet. On day 18 of picketing outside the BC Nurses Union, BCNU staffer Allan Morgan offered his thoughts about the families we make of colleagues, solidarity and the language of support.
You walk a lot on the picket line. Not a startling revelation to most I realize, but it is an odd way to spend your working day. As the management of BCNU de-camped to an unknown locale after the first day (having erected a huge fence around the entire building and brought in non-union security guards) we walk mostly along the highway to make our plight known and to elicit honks from motorists. NB – HONKS MATTER.
You can walk alone, in groups, quickly, slowly, in wheel chairs, or any combination thereof. There are two shifts – morning and afternoon and about 120 of us in total doing the picketing (to surround with pointed sticks). It makes for some amazing conversations. Not so much the situation we are in – we are all of one mind about that – but hearing people's stories: how they got here, who they are, what they care most about, their spouses, their children, their parents. The fabric of their lives.The joy in finding where our stories are interwoven, and the curiosity to find out more when they are not. That is the gift of this walking, and the people I work with, and it is giving this walking line of people an incredible bonding experience. Solidarity.
It also allows you to try and erase the number of Timbits, doughnuts and cookies one ingests while there. I had no idea to what extent these morsels are the common currency of solidarity and support in the labour movement. They are the Lingua Franca of labour love, and since I have rarely met a baked good with it's gluten intact that I haven't loved, I am happy to use them as my fuel. Most importantly though these gifts by other unions, or retirees, or nurses or friends are not simply sugary snacks – they are big doses of support, love, and solidarity and that fuel feeds our souls and fires our determination.