Kevin Rebeck: The Merits of Being on the Inside
June 7, 2013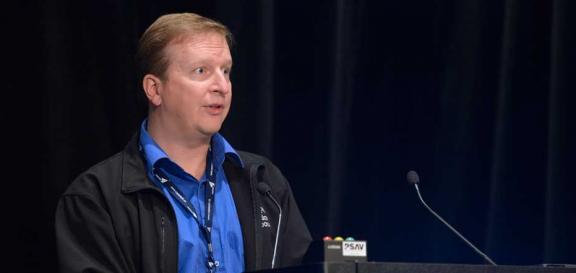 Kevin Rebeck, President of the Manitoba Federation of Labour, sketched a contrast in governments for the delegates to COPE SEPB's fourth National Convention. "We meet with our provincial government, and we push in the right direction. With your help push them further than they would have gone, and faster. It's not perfect here, not always, but with an NDP government we are inside the rather than ouside with a bull horn."
It's a painful contrast to policy in other provinces and on the federal level, according to Rebeck. "I see what happens elsewhere and I'm thankful," he said. "[Right-wing] governments are emboldened by our federal leader."
Rebeck explained that federal trade deals are costing Canadian manufacturing jobs and those jobs are transferred to low wage non-union jobs. But the playing field isn't even: corporations get special support from the federal government, up to and including back to work legislation.
The attacks on workers show no sign of stopping. A new bill, C525, was introduced today. The bill would eliminate card check in the federal sector and increase the percentage of members who signed a card to trigger a certification vote.
"This shows how important it is that care about who we elect … Our involvement in the process makes a big difference. [In Manitoba] we won many seats by a handful of votes last time – every vote counts," Rebeck said.