Ken Georgetti: Labour's Message is Fairness
June 11, 2013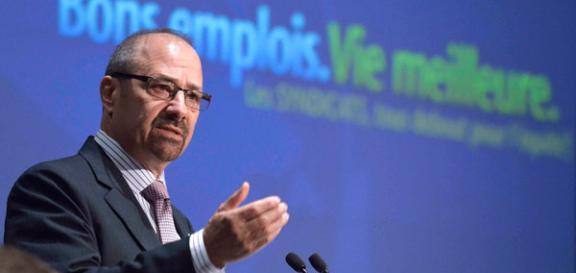 Ken Georgetti, President of the Canadian Labour Congress (CLC), began his remarks to the National Convention by acknowledging the long strike by COPE Ontario members at Porter Airlines.
Georgetti told delegates he was glad to hear the theme of the convention was political action because, "from my vantage point in Ottawa, I keep hearing [government] sharpening their knives."
He thanked COPE SEPB for its work on Bill C-377 and wryly noted he recently found himself in the odd position of arguing with a scandal-rocked group of senators about financial transparency.
Georgetti explained there is a reason for these attacks: "Conservatives view anyone who questions their policies … as a political enemy. Look what they did to environmentalists. Look what they did to scientists." He predicted C-377 would end up in the courts.
He went on to say the government has been successful in its attacks, in part, because of the labour movement's image problem. "We have to learn how to communicate differently but our message is simple: it's about fairness, he said. "We have to explain the union advantage." In monetary terms, that advantage is an average of $5.11 more per hour for a union worker, in societal terms it means greater equality.
Quoting J.S. Woodsworth, Georgetti finished by saying, "What we desire for ourselves, we wish for all. When we talk about the public interest people think better of us. … we need your help to spread this message on the shop floor. "