Ken Georgetti Calls on Unions to Push Back Against Attacks
November 15, 2012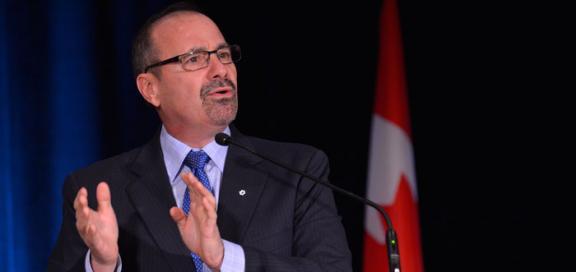 After the constitutional amendments, President David Black introduced CLC President Ken Georgetti.
He started off with a comment about the future of the labour movement, particularly as relates to union mergers:
"I've told our affiliates, bluntly, that Canada has too many unions…I appreciate that COPE, your local 378 has the confidence to consider this question and come up with its own solutions that will ensure that solidarity is our foremost concern."
Georgetti noted that the labour movement faces some serious external challenges, including attacks from the federal government such as C-377. Georgetti has spoken to the House committee examining the bill and has argued that the government and public have no right to examine the finances of a private organization, especially given that those finances are already audited and disclosed to members.
"We need to let these people know there are electoral consequences for ignoring or attacking our interests," he said.
Georgetti cited C-377 and other federal initiatives as examples of the Harper government's focus on pandering to CEOs and business-backed special interest organizations like Merit Canada by attacking unions.
"They want to take our arms and tie them behind our backs so their side can always win," he said.
Looking to the future, Georgetti said: "It's critical that we reengage our members, as your convention theme suggests, to be smart…We have to think more strategically. We have to improve our public image: it's not that good."
"We need solidarity because the result of not stopping these attacks will be a disaster," Georgetti warned, noting that in right-to-work states union workers earn an average of $1500 less per month than in non-right-to-work states. By contrast, the "union advantage" is an average $5.11 higher pay per hour in Canada, which adds up to a significant amount of money being recirculated in the Canadian economy, particularly into local small businesses. The advantage is even more significant for women workers, who earn about $8.00 more per hour than women in similar jobs in non-union workplaces.
Georgetti argued that unions need to communicate differently, to talk more about how we're a movement that's about fairness.
"When unions stand up for fairness, everybody wins," he said.
Georgetti concluded on an optimistic note: "I truly believe that Canadians would rather stand together with union members than be ground to dust by that 1%, so when they push it at you, you push it back."