Jim Quail and Richard Stout Hold Government Accountable on Hydro
October 25, 2013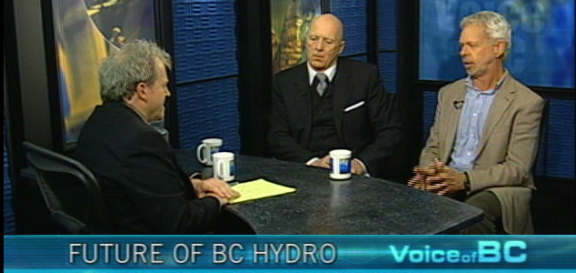 On October 17, MoveUP Legal Director Jim Quail joined an unlikely ally, Richard Stout of the Association of Major Power Consumers of BC, on the Shaw public affairs show Voice of BC, to talk about BC Hydro.
This was the latest development in a string of events coming out of MoveUP releasing an explosive interal BC Hydro document that had been leaked, which predicted BC Hydro would have to raise rates by 26.4 per cent by 2016 to even begin to address the debt brought on by the last 12 years of BC Liberal mismanagement. Energy Minister Bill Bennett said he would try to scale back the increase, but ruled out doing so through a public, independent process at the B.C. Utilities Commission.
Quail contacted Voice of BC host Vaughn Palmer to suggest a episode of Voice of BC with Quail and Stout answering Hydro questions from commentators and policy experts to fill the accountability gap.
"There's some really nasty medicine to be administered, but it's only necessary to get over the consequences of really bad policy over the last decade," said Quail during the show, calling the rate forecasts "chickens coming home to roost."
Stout said the businesses he represents are looking for "an open, transparent filing where we can get into all the accounts of the utility … in my experience what a utility asks for and what it gets can be very, very different numbers with an effective utilities commission."
During the show Marjorie Griffin Cohen of the Canadian Centre for Policy Alternatives asked: "Whereas BC Hydro used to supply most of the generation of electricity, now it has been instructed by government to buy it from private power producers. To what extent is this responsible for the increase in prices?"
"It's a large part," Quail replied immediately, "The independent power producers provide a little more now than 15 per cent of BC Hydro's electricity, but are almost half of the cost of energy. That's how out-of-whack things are."
Stout said his big concern was not so much who owns the project, but that it's necessary to ask: "Do we need it and when do we need it? … The hidden cost of some of these IPP projects is what it actually costs to make that power reliable."
Quail and Stout agreed on the vast majority of issues brought up during the show: Hydro should have had to demonstrate a business case to the BCUC for Smart Meters before rolling out the program, it must stop using deferral accounts to create the illusion of a balanced budget, and more transparency and independent oversight is desperately needed.
One of the few disagreements was over the hydro rates charged to big industry, a question asked by economist Marvin Shaffer. Stout said he believes industry currently pay fair rates, while Quail argued industry should pay more because their projects bear a bigger load on the system and require more infrastructure.
In the end, the public still deserves a BCUC hearing on BC Hydro rates, but this show went a long way to identifying and discussing the major issues facing our Crown corporation.
Voice of BC – The Future of BC Hydro from Voice of BC on Vimeo.