Jack Feels the Love From CLC Delegates
May 11, 2011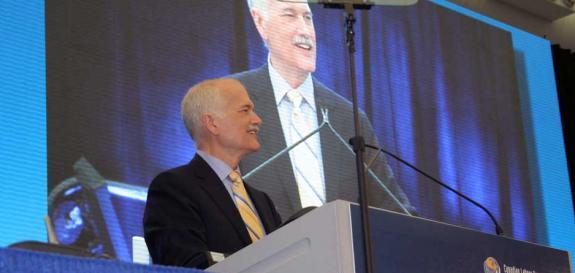 Canada's new leader of the Official Opposition, Jack Layton, addressed the 2,500 delegates to the Canadian Labour Congress today.
Layton received a hero's welcome, with voices shouting from the crowd: "We love you, Jack."
"I love you too," Layton replied from the stage.
Acknowledging that the federal election had given Stephen Harper his long sought-after majority, Layton promised the 103 members of the NDP caucus would hold the Conservative government to account.
He promised the NDP would propose concrete, reasonable solutions to the problems facing Canadians on issues that matter. Accusing Stephen Harper of ignoring a looming retirement crisis, Layton said he would fight to strengthen the Canada Pension Plan to protect seniors.
Layton thanked the labour movement for their strong support and told the delegates in no uncertain terms they have allies in the NDP.