IKEA Workers Still Locked Out. Here's How You Can Help.
April 4, 2014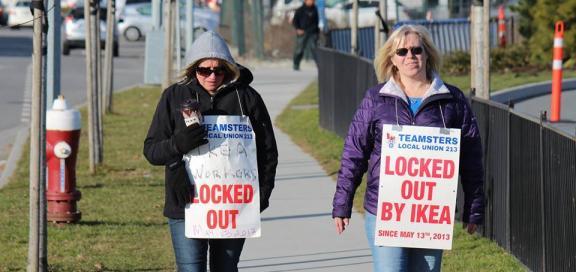 Teamsters Local 213 members at IKEA in Richmond have been locked out since May 2013 after the workers rejected IKEA's proposed concessions. It is important to note that over 80% of IKEA workers currently make under $20.00 per hour and 40% make less than $13.00 per hour – $3.75 less than what First Call BC calculates as an hourly living wage for Metro Vancouver. IKEA's proposals would make employees work 20 years before reaching the top of the pay scale, as well as reducing benefits and cutting hours of work.

Workers are still standing strong just to defend the wages and benefits they already had, while IKEA is making record profits.

There are two simple things you can do to show your support for locked out IKEA workers:
Do not shop at IKEA. It's important to avoid shopping at any IKEA location or online because IKEA is not franchised. All locations are owned by the parent company so shopping at either helps the company profit at the expense of the employees.
If you use Twitter, join in the Twitter campaign by replying to tweets from @IKEACanada and using the hashtag #HouseRules. Here are some example tweets suggested by Teamsters 213:
#HouseRules @IKEACanada mean unfairness to workers
@IKEACanada's #Houserules mean making more and asking employees to go with less
#HouseRules @IKEACanada has locked out Richmond workers for over 300 days
My #HouseRules mean I don't shop at @IKEACanada while they lock out their workers

Thank you for supporting these workers who have spent nearly a year on the picket line by sending a strong message to IKEA that their treatment is unfair.