Historic NDP-Green agreement can bring in a better B.C.
June 1, 2017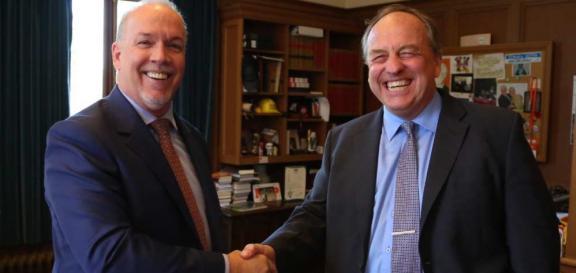 On Monday BC NDP leader John Horgan and BC Green leader Andrew Weaver announced they had reached a deal which will lead to an historic Green-backed NDP government. They released the details of the agreement on Tuesday, which you can read here.
Voters in BC have been on tenterhooks as negotiations between the three main parties took place. While the negotiations and uncertainty have been dramatic, fundamentally, elections are about people's lives.
Throughout the election we heard repeatedly from our members that affordability and good jobs were the top issues. Our members are worried about their employers. People told us they were struggling to get ahead, and that they were paying more for government services like health care and education while getting less. They felt strongly that Christy Clark was running a government for her rich donors, not the people of B.C.
They had reason to feel this way. The BC Liberals politicized BC Hydro and put the squeeze on ICBC workers. They've destabilized our Crown corporations by treating them like piggy banks. They've underfunded transit and allowed congestion to choke our roads. They did nothing for years while housing affordability flew out of control, and many communities across BC faced job losses and service cuts. The BC Liberals' decisions impacted the lives of our members, their families, friends and neighbours.
But now we will see the change that 60 per cent of British Columbians voted for. With the support of the BC Greens, John Horgan and the BC NDP will be given the chance to make life more affordable, properly fund public services, and grow our economy in ways that benefit us all.
The highlights of the deal are:
Reforming our electoral system, getting the influence of big money out of politics, and reforming lobbying rules;
Recognizing that education is about lifelong learning and fast-tracking enhancement to K-12 education funding;
Protecting and promoting public health care, creating a proposal for an essential drugs program, and giving families the security of quality, affordable child care;
Getting people moving with better transit and eliminating unfair tolls on some drivers;
Giving the opioid crisis the attention it deserves;
Establishing an Emerging Economy Task Force and an Innovation Commission;
Eliminating Medical Services Premiums;
Implementing a basic income pilot project;
Fighting climate change while creating good jobs and introducing rebate cheques that will mean most people pay less while increasing the carbon tax beginning in 2018;
Opposing the Kinder Morgan pipeline expansion project.
We're heartened by the cooperation and common cause displayed by John Horgan and Andrew Weaver. We believe this heralds a new era that puts people at the centre of government.
Add your name in support of this agreement here: www.bcndp.ca/historic-agreement