Happy Holidays from MoveUP
December 23, 2016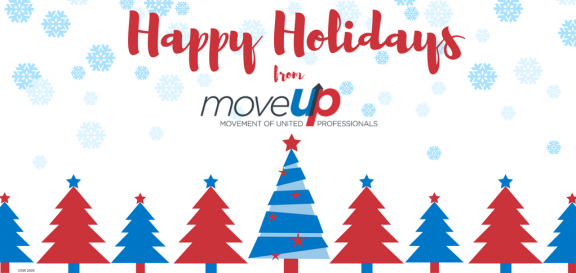 Season's greetings to all our members and their families!
We'd like to thank the MoveUP who members made the holidays a bit brighter by doing something to help those in need. Many members dug deep this year to find ways to give. From contributing to your workplace United Way campaigns to donating to food banks, to spending time with those who needed it most, it's heartwarming to represent people who have poured so much generosity into supporting their communities.
The Social Event and Planning Committee would like to thank everyone who gave donations as admission to the "Children's Breakfast with Santa" event. It was very much appreciated and will go a long way towards making others' holidays a bit happier.
May you all have a warm and relaxing holiday season that allows you to spend quality time with your loved ones.
Happy holidays,
David Black, President
Lori Mayhew, Secretary-Treasurer
Gwenne Farrell, Vice-President – Utilities
Alicia Gallo, Vice-President – Combined Units
Annette Toth, Vice-President – ICBC