Happy Hanukkah
December 15, 2014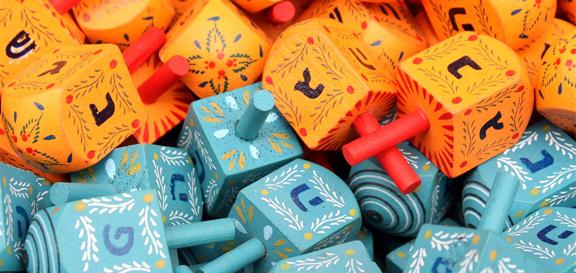 For eight days starting this week (December 16), Jewish families around the world will be gathering to celebrate Hanukkah.
Hanukkah reminds us of the importance of persistence and hope. It is also an occasion to spend time with family and loved ones.
Stories will be shared about the 2nd century victory of the Jewish Maccabees, who resisted when an occupying king ordered people to renounce Judaism or face death. Against all odds the group retook the Jewish holy temple. Once inside they found there was only enough oil to keep the holy lamp lit for one day, but it remained burning for eight days until new oil could be made. This is why the festival lasts eight days and involves the lighting of candles on a menorah.
To all MoveUP members celebrating this year, our best wishes for a Happy Hanukkah.
Photo "Colorful dreidels2" by Adiel lo. Licensed under CC BY-SA 3.0 via Wikimedia Commons.