Executive Board Retreat: More Budget Deliberations, a Discussion of Global Union Federations and the COPE-SEPB Convention
January 23, 2013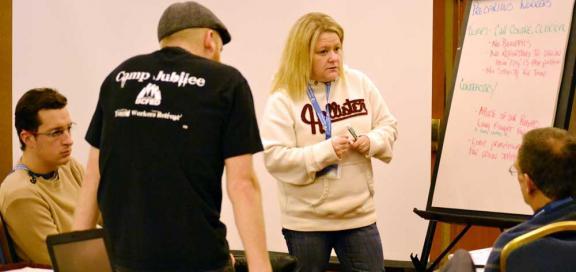 Above: MoveUP Board members defining precarious work
Tuesday's discussion on the union's annual budget extended well into Wednesday afternoon as MoveUP Board members sharpened their pencils, debated line items and worked on various committee and departmental budgets. The union's Executive Council is obliged by the MoveUP constitution to pass a balanced budget, and Board members used creative ideas and tough decisions to ensure the 2013 budget was in orderly shape in advance of the February Council meeting.
After the budget debate concluded, Vice-President Gwenne Farrell made a presentation about Global Union Federations (GUFs). MoveUP belongs to two GUFs – UNI Global Union and IndustriALL. Farrell began with a brief overview of the history and founding members of both GUFs, then spoke about MoveUP's rationale for involvement.
"I get often get asked, 'What do we get out of it?'" said Farrell, speaking to MoveUP's reasons for affiliation. "Well, our employers are not sitting in black boxes deciding on issues on their own. They are talking to each other. They are following each other's example. Our governments and regulators are talking to each other." She went on to explain that what is newly happening in other jurisdictions, such as different approaches to contracting out and new labour relations practices, will find its way to B.C., and that GUFs give the union a powerful network to stay connected and informed.
But staying informed is only part of the solution. To illustrate that point, Farrell quickly briefed the Board on IndustriALL's campaign against Precarious Work. Precarious work is designed to get around the provisions of a collective agreement. When asked, Board members were quickly able to define this type of work—casuals, temporary workers, contractors, seasonal workers, consultants and employment agencies hires often fall under this definition—and point to examples in their own worksites. The risks to workers include inferior pay and benefits, severely decreased job security and lessened union protection. But paradoxically, given that many companies are pushing this type of employment, precarious work is also a risk to employers. They get less loyalty from their employees, retention and morale goes down, they lose and fail to pass on valuable institutional knowledge, and create problems for departmental succession planning. Of MoveUP's employers, Accenture is a fan of this model with a workforce comprising nearly one-third casuals. At BC Hydro the employer is using contractors to get around the government-imposed full-time employee cap.
The materials, information, advocacy and lessons gained from the Precarious Work campaign is one of the benefits MoveUP reaps from being affiliated to Global Union Federations.
Towards the end of the day, the agenda moved to COPE-SEPB National Union issues. To bring new Board members up to speed MoveUP President David Black gave a quick synopsis of how COPE-SEPB left the OPEIU to become a Canadian union. (To learn more about MoveUP's history, visit our history page here: moveuptogether.ca/history.) Farrell then took over to lead a brief discussion of the upcoming Nation convention, issues and resolutions expected to hit the convention floor, and MoveUP's role providing support to the National convention. The convention will be held in Winnipeg this June.