Executive Board Planning Retreat at Harrison Winter School
January 22, 2013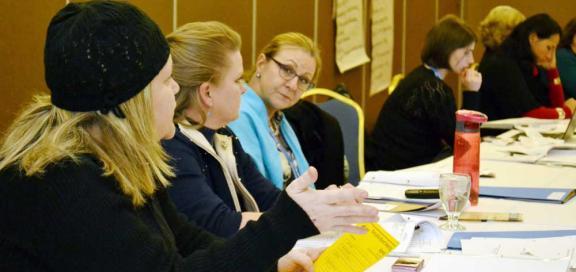 Following the 2012 fall elections for Board Members, Vice-Presidents, Secretary-Treasurer and President the MoveUP Executive Board organized a strategic planning retreat to take place in conjunction with Canadian Labour Congress' Winter School in Harrison, B.C. The retreat is taking place from Monday, January 21 to Friday January 25, 2013.
On Monday the Board conducted the business of their regular monthly board meeting.
The Tuesday morning began with a session on effective board governance facilitated by Amber Hockin, Pacific Region Director of the Canadian Labour Congress. Board members took part in a discussion about the different functions and responsibilities of the Board, general best practices required for effective governance, how and if those best practices are reflected within the current practices of the Board, and what could be improved. The Board discussed their roles within the union and as representatives of their worksites, the various financial and management responsibilities held by the Board, and how Board members are expected to balance these roles and responsibilities. They talked through the various positions on the Board and the duties unique to the respective positions. Both new and returning Board members found the session a useful exercise to share information and experience, and to ensure everyone has a common understanding of Board responsibilities and procedures.
After lunch the Board moved to a detailed question and answer session regarding the union's proposed annual budget. After the Board's scrutiny, revisions, recommendations and vote, the budget will move to the February Executive Council for further review and a vote of approval.