Empowering Stewards, Powering our Future: 2016 Job Stewards Seminar
April 4, 2016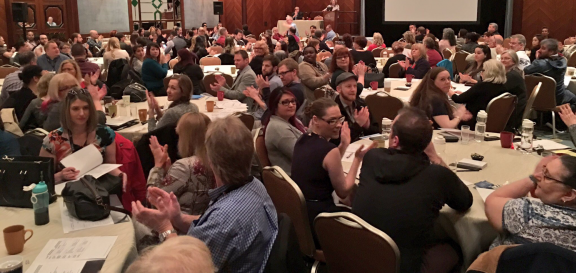 Each year MoveUP holds our Job Stewards Seminar, where stewards from across Western Canada join union staff and guests in Vancouver for two and a half days of training. This year the seminar was held on March 18, 19 and 20. While the union provides other training opportunities for activists, the annual Job Stewards Seminar is MoveUP's largest event with the broadest array of different courses.
At the plenary session in the starting day, President David Black and Vice-President Gwenne Farrell announced the recipient of the 2016 Ardell Brophy Award: BC Hydro Councillor Heather Christie. The Ardell Brophy award is given each year to a steward who demonstrates fierce dedication and commitment to their union, and who provides mentorship to new union activists.
The plenary also featured a keynote address from Peter Hellberg, vice-president of the Swedish union, Unionen. Unionen is a large private sector union representing professionals in several different sectors. Hellberg spoke to the assembled MoveUP stewards about how Unionen's rebrand in 2010 was designed to grapple with their declining membership and to refocus their mission and how they serve their members. "In 2010 we had just over 490,000 members," said Hellberg. "We set an ambitious goal to grow to 600,000 members in 2015." Through a creative yet rigorous agenda of systematic self-examination, audience research, outreach and a clever ad campaign Unionen met, and exceeded its goals.
Following the morning plenary stewards broke off into their classes. Job Steward 1, the introductory class for all new stewards, had to be split into two courses due to the large number of students. MoveUP also offered Job Steward 2 and 3 for experienced stewards, courses in Facing Management, Conflict Resolution, Emergency Preparedness, Making a Difference in Your Community and Women in Leadership.
When asked why she was attending Making a Difference in Your Community, Gagan Gill explained, "I know the provincial election is coming up and I know that I want to be involved." She also said that she learned a lot about the structure of the labour movement and how it operates at the local, provincial and federal levels.
Brooke Valle was taking the Job Steward 1 course. "I'm new to the job steward position in the office," she said. "I want to be able to represent our members fairly and properly so I need to know all the ins and outs." Valle found quite a bit of camaraderie across all the different worksites represented by MoveUP. "People are here to help their members," she explained. "We're all here with the same purpose.