Driving for Knowledge: Ruth's story
January 15, 2020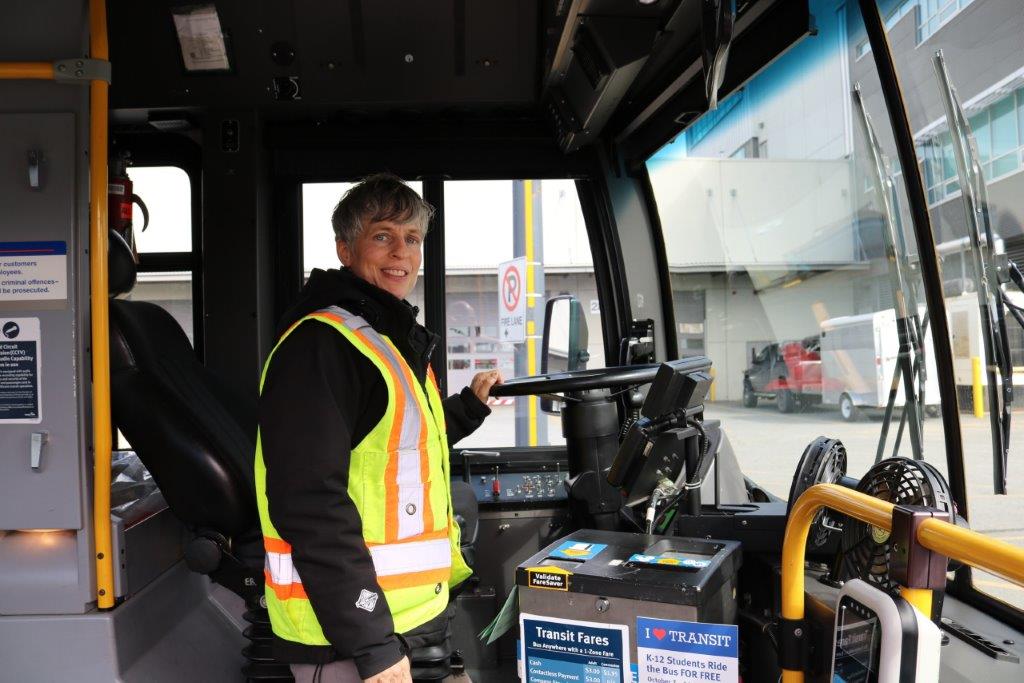 This story originally appeared on the December 2019 edition of the Local Voice.
Those who know Ruth Ritchey know she is passionate about public transit.
A long-time employee of Coast Mountain Bus Company (CMBC), starting in her late 20s as a bus driver before transitioning into the role of Instructor in the Training Department, Ruth's commitment to her work and the people she works with is undeniable. But there's a lot more to Ruth when you go beyond the walls at CMBC.
On any given day, you could use any of the following to describe Ruth: Teacher, world traveler, car enthusiast, mountain bike racer, yogi, writer, animal lover, and environmentalist.
While these may seem like a diverse collection of interests, they all relate to the work that she does now which is preparing the next generation of drivers to go out and provide an essential service for the public. But to understand all that, a little background is needed.
Growing up in the Kelowna, Ruth moved to Vancouver at the age of 17. With a father who was a car enthusiast, particularly sports cars and muscle cars, Ruth figures this is where her love of vehicles first developed. Her mother, whose family came from England, instilled the travel bug in her at a young age by regaling her with stories about her experiences with different populations and cultures that lived in England.
"I always had an interest in global travel so two years after I came to Vancouver I left after Expo 86 and got on a plane and flew to India," Ruth recalls. "I spent two years, literally, going around the world."
As a result, she spent most of her early twenties in locations around the world including spending three months in India and Nepal. She developed an interest in observing other cultures and watching the struggles of people around the world, igniting an internal desire to want to help others.
Ruth was able to do that when she returned to Vancouver at age 26 and joined CMBC as a transit operator, a role she held for 14 years.
"It fulfilled all my initial interests and it really allowed me to develop as a person by learning how to work with other people," Ruth reveals. "I think my travels really helped me because I had a real connection to other cultures when I travelled. It just grew when I would meet people here in Vancouver and the Lower Mainland as I drove a bus."
During her years as a driver, Ruth also took the time to study political science with a Spanish major at Capilano University, along with studying creative writing, specifically poetry and prose. She felt it may be beneficial if she ever decided to change careers. She credits the eight years she spent studying as a catalyst for helping her land the role she finds herself in today.
Becoming an instructor was the next natural step towards expanding her role of helping others. This time by inspiring those who will be asked to serve the public.
Though her job focuses on making sure new recruits know how to drive, making sure they understand the mechanics behind operating these large vehicles, and developing training guides for new technologies and vehicles like the double decker buses that were recently introduced in Metro Vancouver, a large part of her responsibility involves making sure new drivers understand what it means to serve the public and how to have positive interactions in those settings.
"The personality of a transit operator is one that definitely needs to enjoy interacting with people," Ruth explains. "There is such a varied client base and some of them can be very challenging to work with.
"I've had people say that I shouldn't be driving a bus, that it's not my place as a female, and derogatory terms would come with their thoughts on that. I've also had elderly women come and tell me about the time during the Second World War where they drove buses because the men were off fighting.
"An operator has to be very confident in their ability to work with people and engage on a compassionate level. You don't respond with fire and anger at people who are directing their anger at you."
It's the same reason why Ruth is proud of her involvement with MoveUP as a job steward, dealing with health & safety issues, and as a member of her bargaining committee.
"I really want to leave a strong collective agreement for my colleagues," says Ruth. "I've been cared for by my predecessors and what they've negotiated over the years. I realize I have a really good career and a really great position of employment, and I'm grateful for that and to the people who came ahead of me. I feel I have enough knowledge now that when people come to me I want to be able to offer something back so they can continue the legacy."
With so many new and innovative things coming to our local public transit infrastructure, including the potential for rapid rail and the recent double decker bus project that launched in October, Ruth figures it will be a little while before she decides to move on and commit herself to her true passion projects, which are in the areas of animal rights and environmental protection as well as to continue telling her stories through her writing. But in the work she continues to do now, she understands the bigger picture of how it helps contribute to her vision of making the world a better place for all.
"In all honestly my drive for connection with humans is to better the natural environment and the animal environment," says Ruth. "I feel like that's where my heart really lies.
"We need to have good, quality lives for humans so they can respect the environment. A lot of countries around the world people are so impoverished they have to tear down the rainforests and they have to commercialize the animal industry just to make a living. A lot of the things we do come from desperation. That's where my interest in unions comes from. Unions even the playing field and allow for people who are labouring to have a decent income and a better quality of life. Then they can be more conscious of the choices they make and have a lesser impact on the land and sea, and a better engagement with animals."
When that day comes where Ruth decides to follow her other passions, we know we can continue to follow her journey through her writings.
"I feel like I have another 30 years of engaged living and I want to see where the next 30 is going to take me," says Ruth. "I'm very curious and I'll be very open to whatever comes up. Maybe I'll be very busy and not just sitting in a cabin in the trees writing. But that's going to be a big part of what I do."