Dollar Thrifty Workers Make Gains in New Deal
August 2, 2013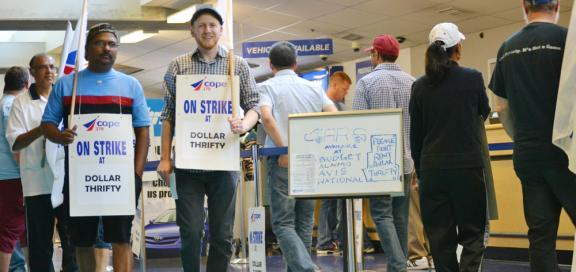 A little less than a month ago, workers at Dollar Thrifty YVR went on strike after bargaining reached an impasse. A key issue was the unfairness and unequal treatment Dollar Thrifty workers were experiencing compared to their colleagues at Hertz, which owns Dollar Thrifty.
Today MoveUP announced the members at Dollar Thrifty Automotive Group have ratified a three-year collective agreement after 28 days on the picket line. The deal includes a wage increase and improvements to job security, benefit premiums, and shift scheduling. Importantly, both part and full-time workers will see improvements under this agreement.
Highlights of the three year deal include:
• Wage increase of 2.5 per cent, 3 per cent and 3 per cent retroactive to January 1, 2013
• Part-time employees will now have an established shift alongside full-time employees
• Employer to fully pay dental plan premiums
• Employer to fully pay MSP premiums for part-time employees working more than 24 hours per week.
• Shift scheduling committee will be struck made up of bargaining unit employees who will prepare schedules
• Protection for full-time employees where full time work is available and maximization of hours for part time employees
• Protection from electronic surveillance of bargaining unit employees
• Clearer language preventing managers doing bargaining unit work
The bargaining committee thanks all the members for their solidarity and support in getting this collective agreement.