Dix: "Political Change Can Happen When Progressive People Lead"
November 15, 2012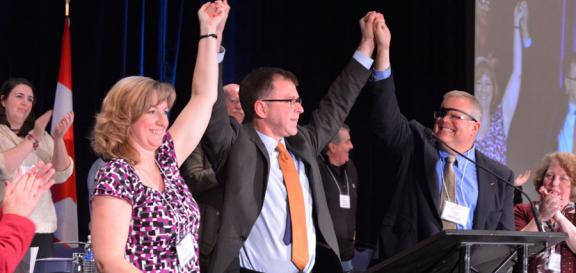 Mid-afternoon on Thursday, President David Black introduced BCNDP Leader Adrian Dix, who was joined at our convention by MLAs Shane Simpson, Mable Elmore, Doug Donaldson, Katrine Conroy, and Mike Farnworth.
"Adrian and the other BC NDP MLAs have consistently spoken out on issues that matter to MoveUP members and their families," said Black.
Dix began by taking a look back at the Dave Barrett years, calling Barrett and his supporters "people who advocated ideas, who fought in the political debate for a generation, and forever changed the province." That legacy, hard-fought for, was almost decimated in the early years of the BC Liberals.
"There was a core review and it was MoveUP that said 'No' and led the fight back," said Dix.
"Political change can happen when people lead, when progressive people lead," Dix continued, using examples of jobs that MoveUP helped bring back in-house at Fortis. Dix suggested that bringing some jobs back in-house at BC Hydro was something a new government should do.
Dix made special mention of the contributions of MoveUP staffer Dave McPherson, who managed Joe Trasolini's successful by-election campaign in Port Moody in a way that Dix characterized as "inspiring" to him and the volunteers in the campaign office. He encouraged other COPE members to get involved and help build a more positive vision – a new way of doing politics in BC.
"We need a mandate and when less and less people see themselves reflected in the political process, that's not a good thing," Dix argued.
"We're going to be positive. Yes, we're going to hold the government to account, but we're not going to make personal attacks…I think it's discouraging, especially for young people in politics for us to make personal attacks."
Dix identified as central issues for the next government what will be done with BC Hydro, with ICBC, how the transit system will be kept safe and sustainable, and how the government will work with private sector employers like Fortis.
But Dix also identified some of the overarching challenges we face, including having an inadequate skills training system run solely by business, low productivity, and the country's highest rate of inequality.
In terms of solutions, Dix talked about his promise to reinstate $100 million in needs-based student grants, paid for by bringing big bank taxes back to 2001 levels. In addition, "We have to restore labour's role in apprenticeship programs," Dix argued, noting that labour-backed programs are far more successful.
Dix returned his focus to BC Hydro, challenging the government for its financial mismanagement of our crown corporation: "On BC Hydro alone there is an argument for change in BC. It is an enormous argument for change"
The BC NDP Leader made the case that Hydro needs to be our primary power provider: "These are our resources and they're not resources for the private benefit of the few," said Dix.
To finish, Dix exhorted MoveUP members to get involved in the May election.
"We lost by two per cent and we can't let that happen again," he explained.
"We have to get involved and make BC Hydro whole again. We have to get involved to ensure that ICBC is providing safer roads for our province."