Day of Mourning Ceremony at Hastings Park
April 28, 2011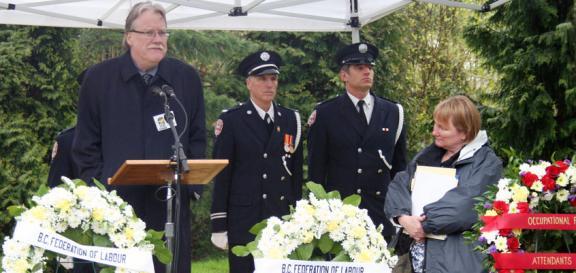 MoveUP Officers, members and staff stood with other trade union activists and elected officials under grey and drizzly skies to honour all workers killed or injured at work.
April 28th marks an international Day of Mourning to commemorate the people whose lives were ended or irrevocably changed by workplace accidents. At a ceremony marking the day at Hastings Park in Vancouver, union members were joined by elected officials from the city, federal and provincial governments.
Speakers included family members who lost loved ones to workplace accidents and occupational illnesses, Councillor Geoff Meggs, who brought greetings from the City of Vancouver in his capacity as Deputy Mayor, President of the Canadian Labour Congress Ken Georgetti, and BC Federation of Labour President Jim Sinclair. Each speaker begged for improvements to the systems which are supposed protect workers and Jim Sinclair made a poignant appeal to remember the names of the people who died.
Picture: Jim Sinclair stands with Joey Hartman, President of the Vancouver and District Labour Council