COPE Ties Local Actions into Global Impact
March 22, 2012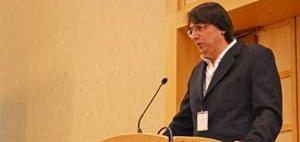 This article originally appeared on the ICEM website.
"Local Actions, Global Impact" was the motto of the annual Job Stewards' Seminar of the ICEM Canadian affiliate, Office and Professional Employees Union (COPE) Local 378, which was held 9-11 March in Vancouver, British Columbia. COPE Local 378 represents 14,000 union members at public- and private-sector companies in the western Canadian province and affiliates to the ICEM through rank-and-file membership in the electricity and gas sectors.
The seminar offered an opportunity to meet and work with both new and experienced shop stewards, as well as leading union officials with nine weekend-long workshops and courses that includes global solidarity and campaigns.
The ICEM was represented by Director of Industry and Corporate Affairs Kemal Özkan and he delivered a presentation on global union solidarity, the ICEM, and the new Global Union Federation, IndustriALL.
"Global solidarity is one of the major items of this seminar," said COPE Local 378 President David Black. "This course starts to make the links between the experience in our own working lives and communities and workers in other countries." The seminar noted that "in an increasingly shrinking world, our struggles are often the same even though they may be half way around the globe."
The participants discussed the economic circumstances they find themselves in and the ongoing globalization of the world's economy. The seminar designed a toolbox to provide activists with an opportunity to make links with workers in other countries and to demonstrate solidarity with them.
The seminar also welcomed Napoleón Gómez Urrutia and Juan Linares from the National Miners' and Metalworkers' Union (SNTMMSRM), or Los Minerosof Mexico as guests. Gómez, General Secretary of Los Mineros, has been living in exile in Vancouver for over four years through the support of ICEM North American affiliate United Steelworkers (USW), while Juan Linares was imprisoned in Mexico from 2008 to 2011 after returning to his home country after attending the convention of British Columbia Federation of Labour.
Both Gómez and Linares have been persecuted and threatened by the Mexican government despite the fact that courts there have dismissed false charges against them over the handling of union funds. Linares, in an emotional speech, cordially thanked participants for the support and solidarity delivered by COPE Local 378.
Following the close of the seminar, COPE Local 378's Gwenne Farrell wrote to the ICEM, stating, "I can tell that we had approximately 165 participants in attendance and the feedback they have given me is that they now fully support the work we are doing with the ICEM.
"Moreover, the course that I facilitated on Global Solidarity trained some of our activists on what they can do to help with a number of global issues. Thank you for making a difference to our members and for doing such a great job promoting ICEM."