COPE SEPB National Convention in Winnipeg: Rich in Labour History
June 7, 2013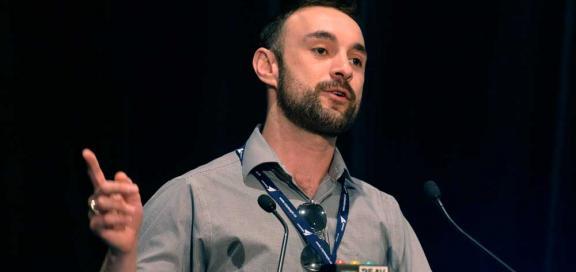 Dave Sauer, President of the Winnipeg Labour Council, brought greetings to the delegates of the 4th COPE SEPB Convention from the 47,000 members of the host Council. Sauer noted, "… while we like our blue – our Blue Bombers, and so forth, we also like our orange – Manitoba has been a NDP government since 1999."
Sauer noted that the Manitoba NDP has increased its seat count in every election, and workers consequently the workers of the province enjoy good labour legislation. In fact, Sauer explained, at lunch he was going to march in support of Winnipeg's first strike in 20 months, and he invited convention delegates to join him.
"Mere metres from this spot was one of the most important events in the history of the labour movement," Sauer continued. "I think all the labour people here would be excited that you're in the home of the Winnipeg General Strike," he explained, and detailed some of Winnipeg's most famous struggles for social justice, from the 1919 General Strike to the Red River Rebellion.
The Winnipeg General Strike shut down the city for six weeks and non-union workers joined union workers in the protest. Even office workers walked off the job. "And nothing works without clerks," finished Sauer.