COPE Dragon Boat Team Brings Home Bronze Medals
June 24, 2013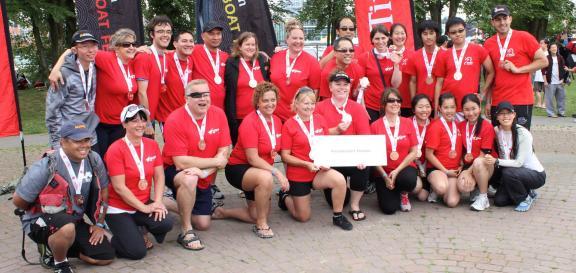 In Mid-May, a group of MoveUP members from many different workplaces got together to try their hand at dragon boating. Most of them had never picked up a dragon boat paddle and they would only have four coached practices before it was time to compete in the Dragon Boat Festival in June.
In 1989 the Canadian International Dragon Boat Festival was created to show off Vancouver's growing cultural diversity and to promote racial harmony among Canadians. Vancouverites were invited to the festival to experience spectacular food, entertainment, arts and children's programming reflecting Vancouver's cultural diversity. At the same time, interest in paddling was taking off and more and more teams formed and registered each year.
MoveUP first entered the festival last year, in 2012, and had a great time even though they were up against far more experienced teams. Helen, an ICBC member who joined the team for the second year, said, "It was nice to meet people from the other companies that COPE represents, our union brothers and sisters."
The 2013 team set a goal of improving their time race by race, and they succeeded. Their race time going into the festival was over three minutes and by their second race Saturday they were down to two minutes, 57 seconds.
They shaved another four seconds off their time on Saturday morning, enough to make it into the medal race for Recreational Division F. In the final race on Saturday afternoon, the team really hit their stride. They made it across the finish line in two minutes, 42 seconds, claiming a bronze medal in the division.
"It was exhilarating, an adrenalin rush," said Heather, a BC Hydro member who was racing with the team for the first time.
Most of the team members said what they liked most was the chance to meet other MoveUP members from different workplaces.
"It was such an awesome experience," said Andrea, who works at Sheet Metal Workers local 280, "It's was a great way to meet other members outside out own offices, and in only four Thursdays and one weekend I managed to make many new friends."
Ivan from BC Hydro agreed: "It was a great team-building experience for me."
Maureen from Capilano University said for her, "the highlight was meeting a whole bunch of people from the other organizations, and also all the swag at the festival. It was positive to get outside."
Andrea added, "When you throw a bunch of strangers in a boat and tell them to row together it can be a disaster. But I think the COPE team this year really proved what teamwork truly means."