COPE 15 Merger Receives Unanimous Approval From 378 Delegates
November 2, 2009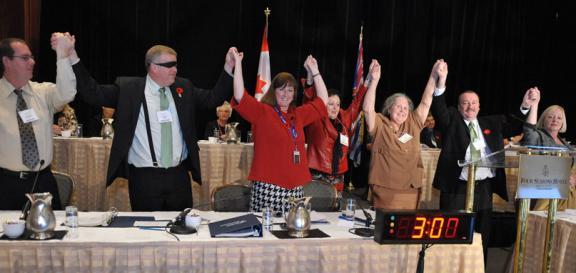 This afternoon delegates made a historic decision to welcome members of COPE 15 to join MoveUP, and unanimously approved the merger with the sister Local.
The vote marks the final steps towards the long contemplated merger between the two locals. "This is a momentous day for the histories of both our Locals and gives us a chance to be an even stronger, more effective and more united Union," said Local 378 President Andy Ross.
Ross brought the COPE 15 President Elaine Jackson and Secretary-Treasurer Charmaine Murray onstage to thank and congratulate them on the merger.
"We now have an opportunity to provide even better, more effective services to the members of both Locals," said Jackson.
On October 5th, COPE 15 voted 93 percent in favour of the merger with sister local, MoveUP. Local 15 was originally chartered in 1945 and represents nearly 2,000 members employed in credit unions and insurance, transport and shipping, technical, commercial and trade union offices.
The merger will take effect January 1, 2010.