Convention Workshops Build Skills, Knowledge
November 16, 2012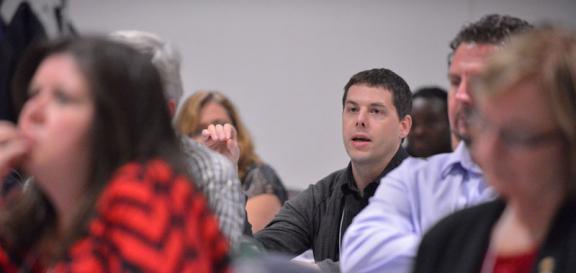 On Friday afternoon, MoveUP convention delegates broke out into workshop sessions to have more in-depth training and discussion in particular areas.
Downstairs in the hotel, Communications Officer Sage Aaron and Board member Stephen Von Sychowski engaged members in a discussion about the New Member Orientation package, including the three videos that will be made available online shortly as an orientation resource. They started out by asking members about their own experience with being oriented to the union as a new member and found a wide range of experiences, some much better than others.
In smaller groups, delegates discussed challenges and opportunities for orienting new members in a variety of worksites. They also suggested supporting materials the union could create or modify from existing resources to help with the orientation process.
Back upstairs, Union Representative Pat Junnila and ICBC steward Brian Martens talked with their group about internal campaigns and communicating with the members in your workplace.Stewards brainstormed ideas for how to connect with members, and suggested strategies like booking time to visit every single worker desk by desk, holding info sessions right after work, and having some sort of prize incentive to participating in member orientation sessions,
Martens pointed out that any meeting with a member, even dealing with a complaint, is an opportunity: "As stewards you will be that sounding baord, but it gives you that opportunity to engage with them later on."
Some stewards said they were finding it difficult to connect with members on different shifts. Junnila suggested they post an intro message with their home email on the union bulletin board to at least make sure members know who to contact to get involved or if they have an issue.
In the Political Action workshop, committee co-chairs Jeff Gillies and Korleen Carreras focused on the coming provincial election. Members discussed what they think will be key issues for the labour movement in the election and they identified several issues, including green energy, transit, health care, elder care, education, and apprenticeships.
NDP Provincial Secretary Jan O'Brien joined the workshop to talk a bit about the BC NDP's strategy for 2013. She said the big difference from previous elections is that the party will be campaigning in each and every seat in the province. O'Brien defined the NDP's message as: "Change for the better, one practical step at a time".
Delegates came up with several suggestions of ways to be politically active, including through voting, running for office, attending local municipal meetings, talking to friends and neighbours about the issues, and getting involved in the community. Carreras and Gillies also gave more in-depth information about what it's like to volunteer on a campaign.
In the final workshop, Western Canadian Wilderness Committee Executive Director Gwen Barlee and MoveUP Organizer Georgi Bates tackled the topic of external campaigns, including running community campaigns and organizing new worksites.
In both types of scenarios the workshop leaders emphasized perseverance.
"Your opposition when you're fighting a campaign wants you to be disenchanted – that's how they win," explained Barlee.