Celebrating Workers Worldwide on May Day
May 1, 2015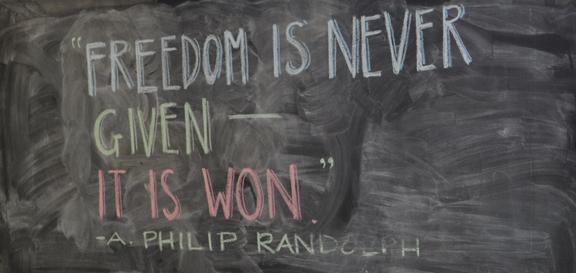 In Canada, most of us are familiar with Labour Day in September as the time when we celebrate the contributions of working people and the achievements of the labour movement. However, May Day, or International Workers' Day, on May 1 is another opportunity to recognize working people and recommit to fight for better working conditions and a fairer society.
May 1 was chosen for International Workers' Day in the late 1880s as a focal point for the campaign for an eight-hour work day. May Day is a public holiday in many countries around the world, just as our Labour Day is, and it has become a broader occasion to champion a variety of interrelated social justice issues.
In Quebec, for example, protestors today took to the streets to challenge their provincial government's cuts to social programs like health care and education. In Bangladesh, hundreds of garment workers rallied for a living wage, safer working conditions, and fair compensation for the devastation caused by the Rana Plaza factory collapse two years ago. In Hong Kong, people rallied for an eight-hour workday with eight hours of the day for rest and eight hours for free time – just like those workers who founded International Workers' Day back in the 1880s. Many other countries also saw large protests for fairer wages and safer working conditions.
In B.C. this year, the BC Federation of Labour and Vancouver and District Labour Council are using May Day to continue the fight for a $15/hour minimum wage with a rally and march in Vancouver. In Edmonton, the Alberta Federation of Labour is holding a march, rally and social to protest the provincial Conservative government's cuts to social services.
If you're not able to attend one of these events or another in your community, you can still take a moment to celebrate the contributions of working people around the world who have fought and continue to fight for safer workplaces, fairer wages and working conditions, respect and dignity for our labour, and a better life for our families and communities.