Celebrating Chinese (Lunar) New Year
February 10, 2021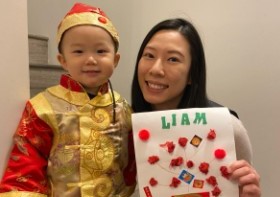 From MoveUP's Human Rights & Multicultural Committee
Photo above: MoveUP Executive Board member Brenda Chu with her son, Liam
The first day of Chinese New Year (also called Lunar New Year) begins on the new moon that appears between January 21 and February 20. This year, that day falls on February 12.
Marking the end of winter and the beginning of the spring season, observances traditionally take place from New Year's Eve, the evening preceding the first day of the year, to the Lantern Festival, held on the 15th day of the year. Chinese New Year, or the Spring Festival, is the most important celebration observed in China, with cultural and historic significance.
The festival signals the beginning of spring, and the start of a new year according to the Chinese lunar calendar. The festival is celebrated across the country, but also has many related celebrations in nations and ethnic groups deriving from China and East Asian countries.
How do Chinese people celebrate the Chinese New Year?
Chinese New Year Decorations — Lucky Red Items. Every street, building, and house where Spring Festival is celebrated is decorated with red.
Chinese New Year's Eve — Family Time.
Firecrackers and Fireworks at Chinese New Year.
Chinese New Year Gifts and Red Envelopes.
Chinese Zodiac
The Chinese zodiac, or shengxiao (/shnng-sshyao/ 'born resembling'), is a repeating cycle of 12 years, with each year being represented by an animal and its reputed attributes.
2021 will be a year of the Ox, starting on February 12 and ending on January 31, 2022. The Ox has long been a symbol of power in Chinese culture. An Ox year is usually considered to be a more hopeful and fruitful year, so 2021 is expected to bring better luck. See below for your zodiac sign year!

Personality of the 12 animals:
Rat: quick-witted, smart, charming, and persuasive
Ox: patient, kind, diligence, and honest
Tiger: confident, optimistic, courageous, and intense
Rabbit: popular, compassionate, and sincere
Dragon: energetic, fearless, warm-hearted, and charismatic
Snake: charming, gregarious, generous, and smart
Horse: energetic, independent, perceptive, and popular
Sheep: imaginative, considerate, kind, and peace-loving
Monkey: fun, energetic, and active
Rooster: independent, practical, hard-working, and observant
Dog: patient, diligent, generous, faithful, and kind
Pig: loving, tolerant, honest, and sincere
Chinese New Year Recipes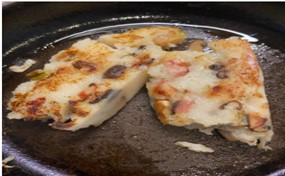 Turnip Cake (Lo Bak Go)
"Radish" is a homonym for luck or fortune making this a welcomed dish for Chinese New Year.
Ingredients
1 daikon radish (about 20 oz., grated)
1 to 1 1/2 cups water
Vegetable oil
2 tablespoons dried scallops
1 tablespoon dried shrimp (washed, soaked and chopped)
3-5 dried shiitake mushrooms (washed, soaked, and chopped)
1/2 cup Chinese sausage (chopped)
1 scallion (chopped)
1 1/4 cups rice flour (130 grams)
1 tablespoon cornstarch (8 grams)
1/2 teaspoon salt
1/2 teaspoon sugar
1/4 teaspoon white pepper
Oyster sauce (for dipping, optional)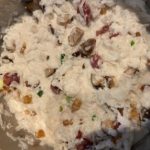 Instructions
Add the grated turnip and 1 cup of water to a wok or large pan, and bring to a simmer. Simmer for about 10 minutes, stirring occasionally so the turnip does not brown. Scoop the cooked turnip into a large mixing bowl to cool. Pour any remaining liquid in the wok into a measuring cup, and add water until you have a total of 1 cup of liquid. Add it to the mixing bowl with the cooked turnip.
Clean your wok or pan and place it over medium heat. Add a couple tablespoons oil. Add the shrimp, mushrooms, dried scallops and sausage, cook for about 5 minutes. Stir in the chopped scallion and remove from the heat to cool.
Add rice flour, cornstarch, salt, sugar, and white pepper to the mixing bowl with the radish and cooking liquid. Mix well until the dry ingredients are well-incorporated. Add in the cooked shrimp, mushrooms and sausage, and be sure to scrape the oil from the pan into the batter. Mix well and let sit for 15 minutes.
Give the batter a final stir, and pour it into a well-oiled loaf pan. Place the pan into a steamer with plenty of water and steam over medium-high heat for 50 minutes.
Remove the pan from the steamer and let your turnip cake set for about 30 minutes. Once cooled, loosen the sides with a spatula and turn it out onto a cutting board. It should come out quite easily.
Use a sharp knife dipped in water to slice ½-inch thick pieces. Add a couple tablespoons oil to a non-stick or seasoned cast iron pan over medium heat. Fry the cakes on both sides until golden and crispy. Serve with oyster sauce!
Noodles with Fried Bean-Paste Sauce, Beijing Style
Noodles is the long life wishes for the second day of Chinese New Year.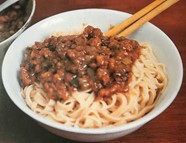 Ingredients
1lb (500 g) flour noodles
9 oz (250 g) lean and fat pork, minced
5 tsp (25 g) sweet fermented flour paste (sweet bean sauce )
5 peppercorns
5 tbsp vegetable oil
1tsp scallions, chopped
5 tbsp soy sauce
1 1/2 tsp salt
1 cup (200 ml) clear chicken stock
1 tbsp cornstarch dissolved in 1 tbsp water
Instructions
Add enough water to the bean paste sauce to make a thin paste. Heat oil in a wok until the oil surface ripples. Add peppercorns and deep-fry until fragrant. Remove and discard peppercorns. Add the pork, scallions, ginger, soy sauce, salt and the paste. Stir-fry for about 1 minute, then add the stock and cornstarch. Bring to a boil and cook, stirring, until thickened. Transfer to a serving bowl.
Bring a pot of water to a boil and add the noodles. Bring back to a boil and let cook for 30 seconds. Add cold water two or three times, each time bring the water back to the boil until the noodles are just cooked. Drain in a colander and place on dishes or in a bowls. Diners help themselves to some of the sweet bean paste, starting with about 1 tbsp and adding more to taste.
Boiled Dumplings (Jiaozi), Beijing Style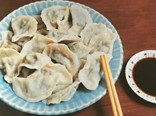 "Jiaozi" is the most traditional food for the first day of Chinese New Year.
Ingredients
4 1/2 cups (500 g) flour, sifted.
1 1/2cups (300ml) water for the dough.
10 1/2 oz (300g) lean boneless pork.
1 tbsp salt.
1tsp soy sauce.
1tsp oyster sauce.
2/3cup (150ml) chicken stock or water for the meat filling
1bsp sesame oil
6 ½ tbsp. (100g) scallions, chopped.
2 tsp ginger, chopped.
1/8 tsp five-spice powder

Instructions
Mix the flour with 1 1/2 cup (300 ml) of water to make a dough. Knead until smooth and let stand for 30 minutes.
To prepare the filling, mix the pork with 2/3cup (150 ml) chicken stock or water and the salt. Stir in one direction until it becomes a paste. Add soy sauce, oyster sauce, sesame oil and five-spice powder and blend well. Add the scallions and blend well. Divide filling into 100 portions.
Divide the dough into 4 portions and roll into long rolls. Cut each into 25 pieces. Flatten each piece and roll into 2 inches (5 cm) circles (see Illustration 1). Place 1 portion of filling in the center of each wrapper and fold it over it, making a bonnet-shipped pouch (see illustration 1). Pinch the edges together to seal the dumpling. Repeat until all the dough and filling are used.
Bring 8 cups of water to a boiling pot over high heat. Add 25 dumplings. Stir them around gently, then bring back to a boil. When the water boils again, add more cold water and bring to a boil a third time. The dumplings will be done when they float to the surface of water. Remove, drain well and server.
Crafts for Kids
What you need
Glue
Paper
Brown Crayon
Red Pocket
Red Crepe Paper
Pom poms
Stickers
Instructions
Glue the red pocket to the bottom of the paper
Draw some branches above the red pocket using the brown crayon
Roll the crepe paper into little balls and glue them onto the branches
Glue the pom poms on the paper
Stick the stickers on the paper