Celebrating 10 Years as an Independent Canadian Union!
June 19, 2014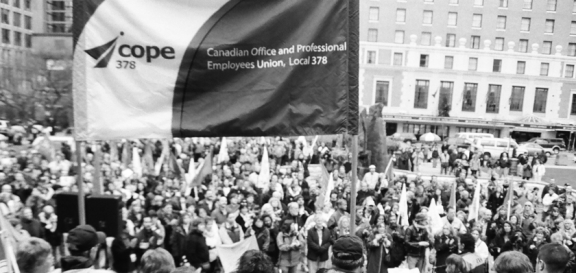 On June 20, 2004, several Canadian members of the Office and Professional Employees International (OPEIU), led by former Local 378 President Jerri New, handed a stunned and speechless group of American labour leaders sitting in a Florida hotel a divorce letter.
74 per cent of the OPEIU's Canadian membership – 24,410 people from provinces and territories from coast to coast to coast – decided it was time to form an independent union, as Canadian as maple syrup. The Canadian Office and Professional Employees Union (le syndicat canadien des employées et employés professionnels et de bureau, in French, or COPE SEPB) was born.
The catalyst for this dramatic move came in March of 2004 in a meeting when the president of the OPEIU, Michael Goodwin, defended a controversial decision to raise Canadian dues by two dollars per member per month. To demonstrate the low relative value of the Canadian dollar, Goodwin pulled out Monopoly money in the meeting to represent Canadian currency. The Canadians were shocked at the lack of tact and understanding.
The Canadians argued that their members would be paying a higher percentage of dues to their wages than their American counterparts. In B.C., members of public sector unions were facing the pressure of wage controls and would balk against a dues increase. And while the Americans claimed the low value of the Canadian dollar meant the international union was subsidizing the services they gave Canadian members, Canadians felt they saw little in the way of services from the international union at all; no international staff representatives, no lobbying of Ottawa.
"There were so many locals across Canada who couldn't afford that large a per-capita increase," said New. "We knew we had to stick together."
The Canadians quickly pulled together a campaign plan to exercise a clause in the international constitution that would allow them to break away from the OPEIU and launched into high gear. To leave, they would have to get a majority of their members across the country to affirm they wanted a Canadian-only union. They only had a handful of months before the June 2004 OPEIU convention where the international union would try to bind the Canadians by removing that clause from the constitution.
Former MoveUP president Andy Ross headed up the efforts in B.C. "We treated it like an election campaign," said Ross. "We identified all our members, got in touch with them, sent them our message. And our message resonated well."
For Local 378, Canadian independence ended a relationship with the OPEIU that had begun some 49 years before. All who were involved in the decision agreed it was a difficult choice, but ultimately, the right one.
Ten years on, MoveUP salutes all members of COPE SEPB who took part in that move for Canadian independence. Through their efforts and determination, unionized office workers in Canada gained stewardship over their own destiny.