Born to serve: Jason's journey from the army to FortisBC Energy
November 7, 2019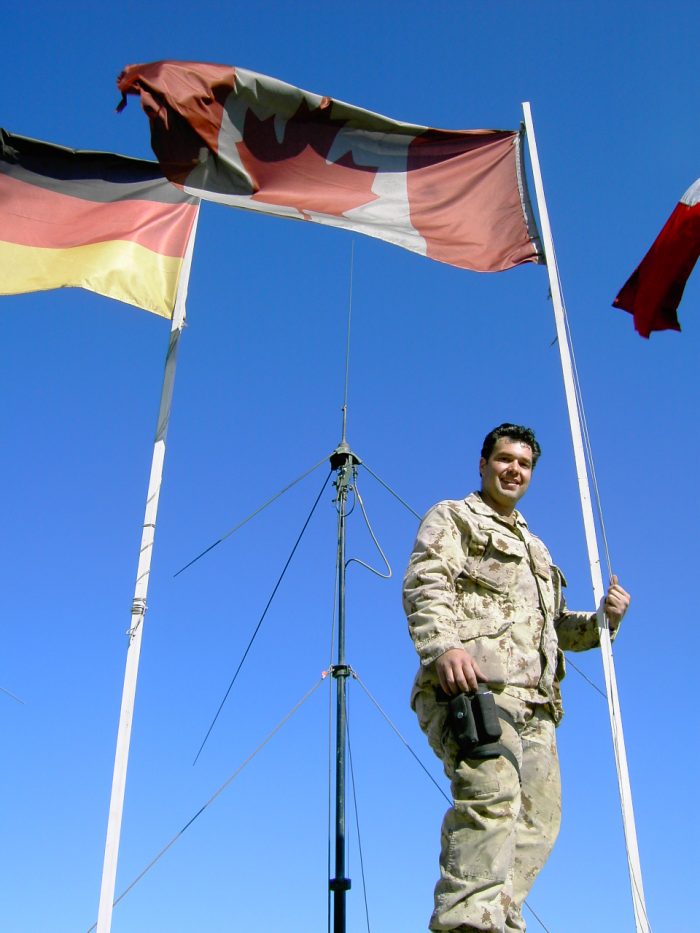 Growing up, like many young Canadians, Jason Brown wanted to be a professional hockey player. Although that wasn't in the cards, it was an employer early on in his life that recognized Jason needed guidance, discipline and a brotherhood that would support him like a family the same way many hockey teams operate.
Enter the army.
"It was nerve wracking," remembers Jason about that feeling of walking onto his first army base at the tender age of 18 in Petawawa, Ontario as the youngest person posted to that unit after he had successfully completed basic training, battle school and driving training.
Eventually, radio communications became his specialty. During each overseas tour, Jason did Radio Rebroadcast (RRB) work. This position was essential to the Command Post for maintaining communications with the front-line troops at a long distance. The RRB's job is to create a radio-relay link by setting up a series of antennas around the midway point in an isolated location and relay messages back and forth from command to the troops.
Jason's first deployment was to the Kosovo War about 20 years ago. It was an eye-opening experience for the young man at the time.
"It wasn't so much a culture shock," recalls Jason. "It was a shock because of the things that were happening there at the time."
There are two particular deployments that stick out in Jason's mind as he reminisces about his days serving our country.
One was a deployment at the border of Bosnia and Croatia where they were stationed on an impressive mountain, Mount Gola, which was retrofitted into a fortress fully equipped from ground to the top of the mountain with an elevator, stairs, floors, airplane hangars and, at the top, a chalet.
This was no luxury resort, even though it may sound like it. When they arrived and swept the base for booby traps, they discovered so many that ultimately they made use of only the top three floors of the facility. Still, the location and the view is one he'll never forget.
"One day in particular will be permanently etched in my mind," Jason says, describing a picturesque backdrop so stunning that even high-ranking officers would purposely helicopter up just for a photo opportunity. "We were above the clouds, the blue sky was perfect and, as far as the eye could see, snow-covered mountain tops."
The other was his second deployment to Afghanistan from 2005-2006, part of this mission was to support the country's first presidential election since the 1970s. When the elections concluded, they closed camp on TV Hill and made their way to Kandahar to start a new part of the mission. That trip would be one of the nerve-wracking moments in his career.
"When we packed up and the convoy went south, we were all aware there was only one road and you never knew what was around the corner," recalls Jason, vividly. "In this scenario, if one vehicle were to get a flat tire, the entire convoy would stop. We would have to get into a defensive posture with all soldiers dressed in full gear needing to be still and quiet.
"We were in a war zone and many didn't want us there."
Kandahar was supposed to be the last stop before heading home, but Jason was ultimately sent to Turkey for another three months. He still remembers finally getting home, all the programs that were available for soldiers to see doctors and to deal with mental trauma, and the relief it was to later receive a posting to Canadian Forces Base Borden in Ontario.
Jason's duty serving his country came to an end in 2012 when he retired as a Sergeant out of Hamilton, Ontario. Shortly after he landed a role at FortisBC Energy as, not surprisingly, a Radio Communications Technologist.
Although his days in the army are now behind him, he still thinks back fondly on his time serving our country. Those weren't easy times, but it was still difficult for him to walk away from a life that shaped, trained and educated him.
Today, Jason continues to help serve those around him not only in his capacity at work with FortisBC Energy, but as an elected Executive Councillor for MoveUP.
Thank you, Jason, for all you have done and all you continue to do.