Black and Farrell Visit COPE Members on IBEW Picket Lines
August 20, 2013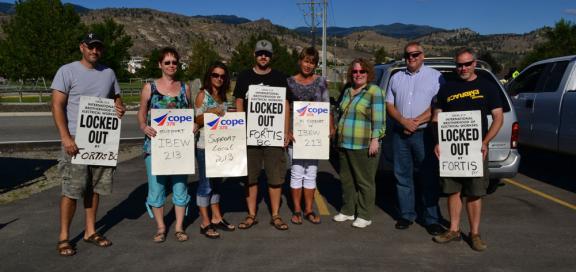 When the driver of large semi truck blew his horn and waved in support as he rumbled by the picket line, MoveUP and IBEW 213 members waved back and put their fists in the air before turning back to their visitors, President David Black and Vice President Gwenne Farrell.
"The support from the community has been really good," said a young male IBEW member, with a hint of a sunburn from the bright sky showing on his cheekbones. "First off, it's a lockout, they know we want to go back to work. Put that with Fortis' recent [electricity] rate increase, they're all pretty onside."
FortisBC, the primary electric utility in the Kootenays and parts of B.C.'s interior, locked out approximately 200 workers of Local 213 of the International Brotherhood of Electrical Workers in June following the overwhelming rejection of the company's final offer. IBEW 213 members said FortisBC's efforts to control job descriptions have the potential to substantially de-skill their workforce, one of the major reasons they so decisively voted the offer down. The other issue is wages, but the company and the union were only one per cent per year apart. Instead of negotiating further, FortisBC locked the workers out.
The lockout affects 28 of MoveUP's FortisBC members (MoveUP also represents over 500 members at Fortis Energy, the gas arm of the utility, and around 300 members at the Fortis Customer Care Centre; none of those members are affected at this time). Those 28 members are respecting the IBEW picket line and refusing to cross. They are eager to get back to work–but only if there's a deal.
"Of course we have to stand with them," said an older male COPE member at one of the first stops made by Black and Farrell. "It's the right thing to do and we also know our bargaining is coming up next. If Fortis gets away with treating Local 213 like this they're coming after us next."
Black and Farrell spent a day and a half criss crossing the FortisBC service area to meet and speak with members. They visited Castlegar and South Slocan, Creston and Warfield on Monday (but just missed the Warfield picket shift), then Oliver, Penticton and Kelowna on Tuesday. At each place they heard similar comments–strong support for the IBEW members, a desire to get back to work and concerns about their own bargaining coming up in February of 2014.
"These are good jobs here, in our communities," said a female MoveUP member in Oliver, when talking about the impact of the lockout. "Some of our coworkers are single parents or just single. There's not always secondary income to rely on." Picket pay is enough to cover basics but the locked out workers aren't able to contribute to their local economies in the same way as before the dispute.
There is hope a resolution is around the corner. IBEW 213 is heading into mediation with the company this Thursday, which could lead to an end of the eight week long lockout. Meanwhile, MoveUP members and leadership hope the lockout won't prove to be a dry run for their own negotiations. But if it is difficult to reach a collective agreement COPE members know they will have the support of their union brothers and sisters from the IBEW.
Before Black and Farrell left the Kelowna Fortis picket line an IBEW member approached them. "I want you to know they've been great," he said, gesturing to the COPE picketers. "These folks have been out here with us every day. I can't tell you what that means."