BCNU Staff Spotlight – Susanne Watts
September 30, 2016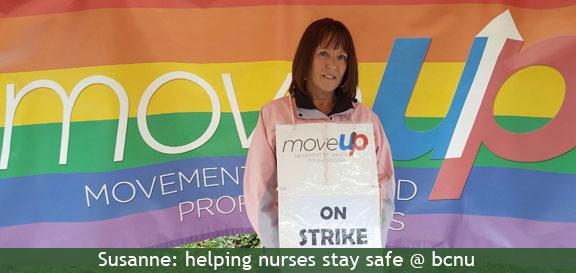 What do BCNU support staff do for the hard-working nurses of BC? Meet Susanne…
Susanne joined BCNU through the UPN merger and has been working with nurses for almost five years. She now works in the education department organizing the Occupational Health & Safety courses, the PRF Foundations workshops and the Communicating: 6 Essential Skills series of workshops for members whose first language is not English.
"These workshops teach vital health & safety rights and enhance knowledge of PRF language to stewards and committee members which improves working conditions for all members," she says. "The Communicating: 6 Essential Skills workshops improve communication skills with managers, patients and their families. The education department is deeply committed to nurses' well-being, and I look forward to getting back to work and assisting nurses with their training."
The staff lockout/strike isn't over because BCNU leaders haven't offered administrative and technical employees a 'no rollbacks' contract.
Tell BCNU leaders to stand up for their values by negotiating a fair contract with MoveUP at bcnuwalkthetalk.com.