BCAA Puts Its Members in the Middle
June 29, 2015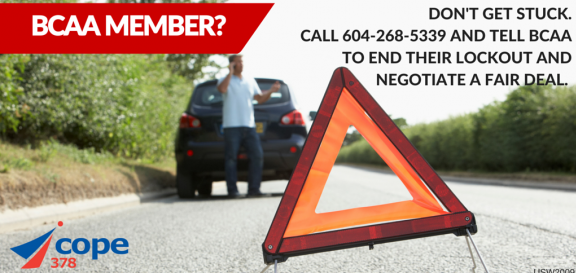 BCAA members who have needed roadside assistance over the past few weeks have found themselves stuck at the side of the road waiting for their calls to be answered and responded to. That's because BCAA locked out its roadside assistance employees on June 5, to avoid giving equal pay for equal hours of work. As a result, their roadside assistance line, which serves all of B.C. and the Yukon, is being staffed by a handful of untrained managers.
The Canadian Office and Professional Employees Union Local 378 (MoveUP), which represents approximately 70 members at BCAA Emergency Roadside Services, has started running radio ads urging BCAA members to call the corporation to register their concerns. You can listen to the audio below.
"The summer is a peak time for roadside assistance. Families are taking road trips and need to know they're covered if their car breaks down, especially with this heat. BCAA is putting their members in the middle by putting their service at risk," said MoveUP President David Black.
If you are a BCAA member who is concerned about your roadside assistance service, call BCAA's corporate communications line at 604-268-5339 and tell them to end the lockout and negotiate an agreement that pays their employees fairly for equal hours of work.
"Our members are making the same wage as people doing the same work for BCAA's car-sharing company, but working five hours longer every week. BCAA customers are taking the hit because BCAA won't treat their employees fairly," Black added.
Everyone else with similar jobs at BCAA works a 35-hour week, including Evo employees, who do very similar work and are paid the same, despite working five hours less each week.
The contract between MoveUP and BCAA-ERS expired in September 2014.
Click Play below to hear the radio ad.