BCAA employees locked out for 150 days
November 4, 2015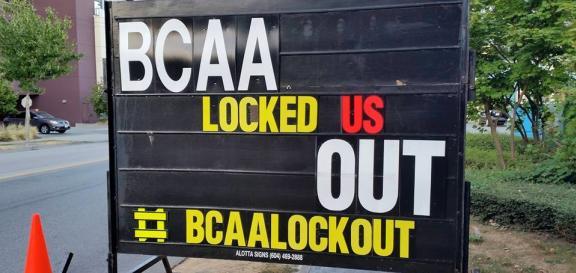 BURNABY – Wednesday marked 150 days since BCAA locked out their roadside assistance employees, leaving drivers with diminished service and long waits for help. The approximately 70 locked-out employees are members of the Canadian Office and Professional Employees Union Local 378 (MoveUP).
"Over the last 150 days, BCAA has made it clear that the service and sense of security their members count on is no longer a priority," said MoveUP President David Black . "BCAA claims to be a leader in the service industry but a real leader doesn't prevent their employees from working just to avoid paying them fairly."
BCAA locked out its emergency roadside services employees on June 5. These employees are expected to work 40 hours for the same pay as other BCAA employees who fill similar roles but only work 35 hours a week.
As a result, their roadside assistance line, which serves all of B.C. and the Yukon, is being staffed by a handful of managers working up to 70 hours per week.
Darshan Andrews has worked at for BCAA-ERS for over three years. "We all [at BCAA-ERS] care about BCAA's members and we're proud of the service we provide," Andrews said. "We're genuinely worried about the quality of service they're now getting with only a handful of people staffing the roadside assistance lines. We want to go back to work."
"BCAA is putting their members in the middle by putting their service at risk," said Black. "I encourage BCAA members to tell BCAA to end the lockout to restore the quality services they count on."