BC Federation of Labour Affiliates Meet with Shandong Trade Union Representatives
August 13, 2013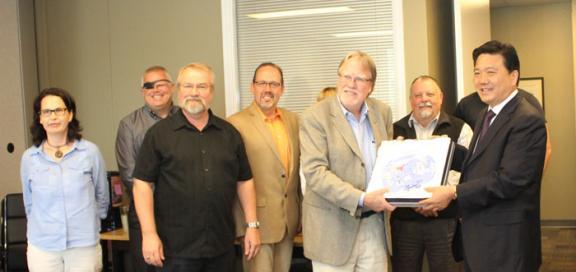 On Monday August 12, officers of the BC Federation of Labour met with representatives from the Shandong Federation of Trade Unions, who were visiting from China. The meeting started with a presentation from the BC Federation of Labour about the organization, the state of unions in B.C., and some issues of shared concern, such as the problems of exploitation of people brought into Canada through the Temporary Foreign Worker program. Next, the Chair of the Shandong Federation gave some background on their province and its major industries. Finally, both sides exchanged general questions and answers on issues from LNG development to private companies' involvement in health care, to the changing face of both the B.C. and Chinese economies.
MoveUP President David Black, who attended the meeting, said even though the meeting was brief, it was useful:
"Our economy in B.C. is certainly influenced by what's happening in China and it's important to build up these relationships with Chinese unions to talk about our shared concerns and maybe learn new ways of protecting workers and jobs," he said.